With a computer and a webcam, or with a "smart" mobile device, you can have individual or even group meetings, regardless of where you are, thus offering the flexibility of working from home, at a time when staying at home is already made mandatory. The expectations that businesses will increase day by day the use of a software for conferences and seminars through the web, simply thanks to the provision of a host of benefits such as time, cost, etc., are evident. In the following article, we will list some of the best video conferencing software for virtual meeting, some of which are more popular with us, and some are less talked about even though they offer a host of qualities making them competitive in the market.
[td_block_ad_box spot_id="custom_ad_2″]
> Check Out: How to use your Android smartphone as a webcam for your PC
Best Video Conferencing Software for 2020
The current spread of the coronavirus has forced most companies in the world to switch from office work to home work, with the aim of not negatively affecting productivity. To achieve this, companies have turned to applications that offer video conferencing and applications that offer remote collaboration. It is a fact that this cannot replace close meetings – face to face – where the presence is more present, but since we are living in a time of "social distance", remote meetings – by video – are a golden opportunity.
The usual offers for consumers made by companies like Skype, Google (Hangouts) or Apple (Facetime) have made video communications seem like a normal part of the conversation process. The expectations that businesses will increase day by day the use of applications for conferences and seminars through the web, simply thanks to the provision of a host of benefits such as time, cost, etc., are evident.
So follow the article below to know some of the best video conferencing software for virtual meetings in 2020, with some of which are more popular, and some are less known, even though they offer a host of qualities, making them competitive in the market.
Webex Meetings is a video conferencing platform established in 1995 as a company, that Cisco bought ($3.2 billion) in 2007. Due to the fact that behind this app is Cisco, the expectations are naturally high – and you will not be disappointed. Although there are some paid versions, in most cases the free version will be more than enough for you. This version offers you the opportunity to make HD video conferencing for up to 40 minutes, with up to 50 participants, with the ability to split the screen, which you can record and save in (MP4) – while also saving the transcription of Conversations – in which you can search for any keywords, and allows you to have room for private conversations. To save these conversations and share documents, you have 1 GB of cloud space available.
The paid version:
Starter: If these above restrictions are not enough, you can purchase the Starter version for $15/month per user, which offers up to 24 hours of long meetings, 5 GB of cloud space, and integration with other video platforms such as MS Teams, MS Outlook, PowerPoint, Skype and other applications.
Plus: The Plus version, which you can get for $20/month per user, increases the number of participants from 50 to 100, and allows you to customize the URL.
Businesses: The most expensive version of Webex Meetings is for businesses, for which you have to buy at least 5 licenses from $30/month per user. This version allows you to hold conferences with up to 200 participants, and take advantage of 10 GB of cloud space, and you will have some branding features available – which is special for this version.
Guests at your conference do not need to have a web account, nor do they need to download and install anything. In addition, through the Webex Meetings app you can also follow the conference from any video system that supports SIP or H.323. Once you register your Webex Meetings account, you will be given a personal URL link, which you can use to manage appointments, schedule video conferencing, or even open recordings you've previously made. In terms of meetings, you can use the Webex Meetings app – which gives you a better experience, or do it through the web. In addition to having a computer application, you can also use the mobile application.
> Check Out: WhatsApp Group Calls: How to Make Group Calls on WhatsApp (Android & iOS)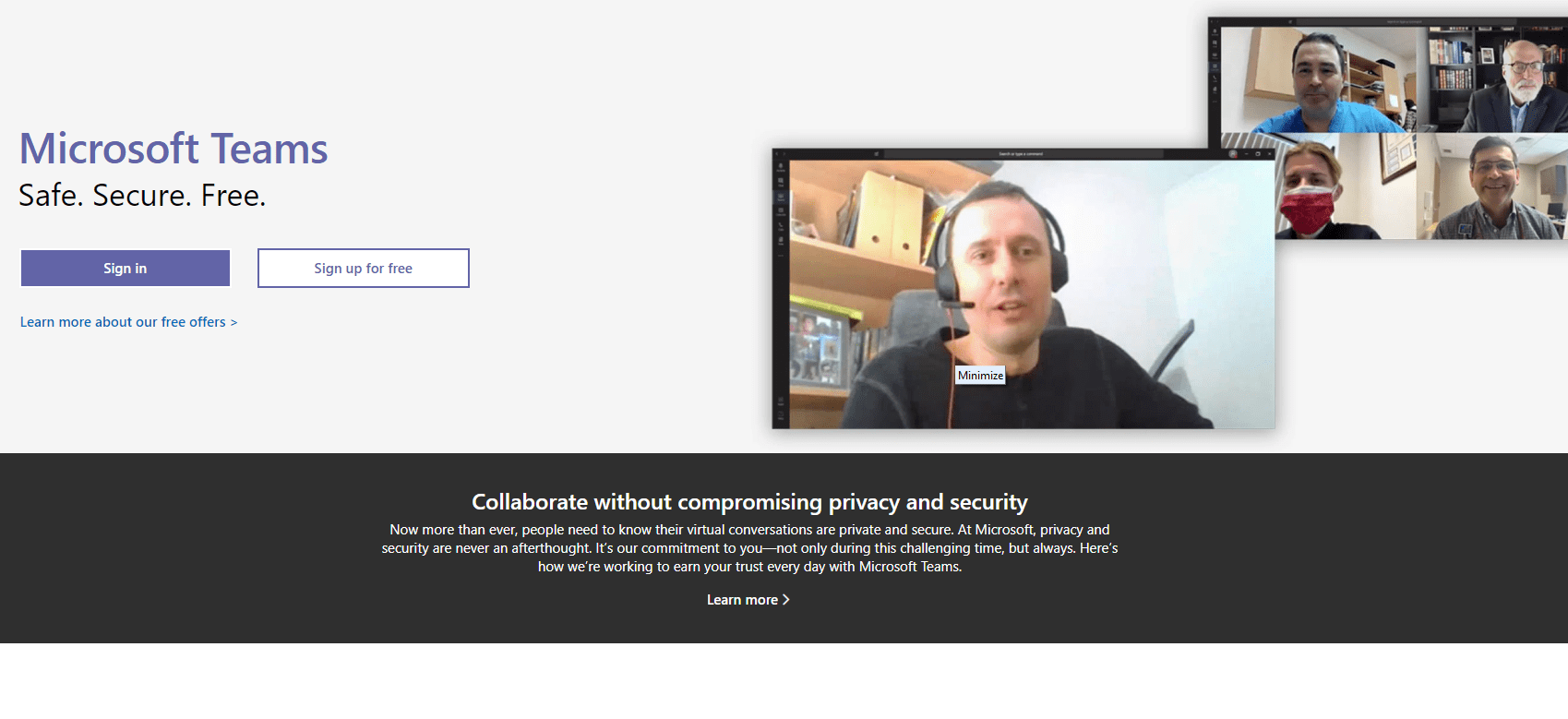 Microsoft Teams, as the successor to Skype for Business, is more of an Office 365 feature than a separate application. To register for the free version of Microsoft Teams, all you have to do is have an active e-mail address.
The plans:
Basic: The basic version, which costs $5 per month for users, supports up to 300 members, guest access, voice and video calls for individuals and groups, card sharing – up to 2 GB for one user and 10 GB for groups , screen sharing, as well as collaboration with documents through the online applications of the Office package.
Business: Includes Standard ($12.50 months/user) and Enterprise ($20 month/user) of Office 365, where the Teams program is just one feature of the software package. In that package, administrators have access to a wide range of management, security, and other tracking tools. Group members, in these versions, can share cards up to 1TB per user, can schedule direct meetings from Outlook, can record (video) meetings, and interact in documents through Office programs and SharePoint online. In addition, these plans support online training sessions and seminars through the web.
GoToMeeting is a service provided by LogMeIn, which you can use for video conferences through the web regardless of the system you use. In addition to offering the possibility of audio-visual conferencing and screen sharing, what sets this web application apart from other similar service providers, is the ability to launch a conference call from your mobile (smart) device. not offered by some of the most popular companies. You can also adjust the picture and sound quality, as well as it offers invitations for meetings and conversations with a single tap. For this, you can download the app on your mobile phone, be it an Android or iOS, which – both – have a very good user rating.
GoToMeeting Plans: 
Professional: You can get the "Professional" version for €12 per month, or €10.75 per month if you make the payment for one year (€129). This version limits the number of participants to 150.
Business: The Business version offers up to 250 participants. In addition, the Business version – which costs €14.33 per month, or €14 per month if you pay for it for a year – also offers some management options, as well as a table for drawing and moving the mouse pointer. 

Enterprise:

While the plan for Enterprise could accommodate up to 3,000 participants.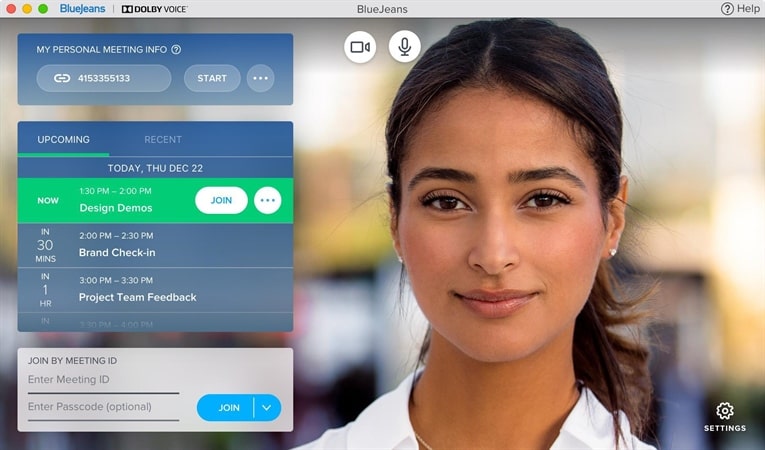 BlueJeans Meetings is a web service that enables video conferencing which you can also use as an application on Android or iOS platforms. The special feature of this application on the web is the provision of voice quality which is supported by "Dolby Voice" which includes ambient noise cancellation, as well as the integration of hardware systems for conference offices. In addition, BlueJeans Meetings integrates with corporate applications such as Microsoft Teams, Slack, and Facebook Workplace, and offers a range of screen sharing tools, a whiteboard, and the ability to interact during meetings.
BlueJeans has been named from its founders to show that their app is as convenient and easy to use as it is appropriate to wear a pair of jeans.
The Plans:
You have a 30-day free trail service, than the option to choose between this plans:
Standard: BlueJeans Meetings – the Standard version – can be obtained for $12.49 per host per month, or for $9.99 per host per month if you make the payment within a year. This version is designed for individuals and small companies and supports up to 50 participants, up to 72 hours of meetings with the ability to record meetings for 5 hours per host, integrated with "Outlook" and "Google Calendar", access to "Dektop" from a distance, and many other functions for Furniture, for Administration, and Security functions.
Pro: The Pro version includes all the options of the Standard version, plus additional options such as the number of participants increases by 25, ie 75 participants, 25 hours of video conferencing for hosting, integration of Slack and MS Teams applications, integration of Gong sales service & Zoho, integration of the Learning Management System including Canvas and CirQLive, as well as many other Security and Incident Management features offered by Okta and Splunk.
Enterprise: The Enterprise version supports up to 100 participants, registers unlimited, includes interactions with any of the traditional video conference rooms through H.323/SIP, and offers support for management, recommending steps to achieve results and  long-term success, technical management advice on implementation and many other services.
> Check Out: Top 5+ Best Free Screen Recorder For Windows 10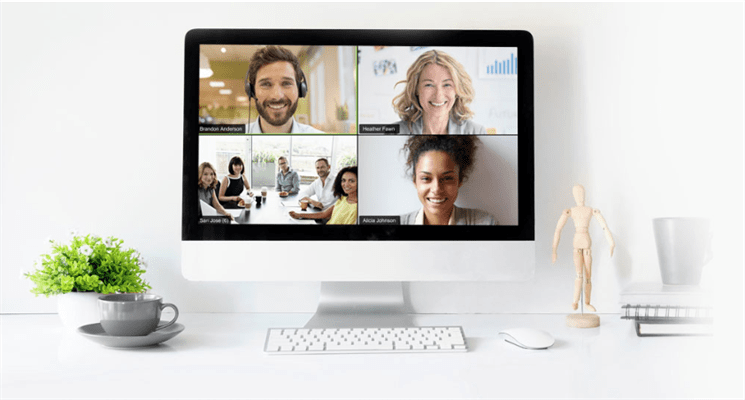 Zoom Meetings offers solutions for HD video conferencing and messaging for mobile devices and computers, with up to 1,000 participants simultaneously, and up to 49 videos on a single screen – which is only suitable for large screens. Meetings – between two people, or between groups – can be stored on your computer or in the Cloud. In addition, participants can share their screens during the collaboration, share cards in the Chat chat window, search the history of collaborations, and also offers archiving options for up to 10 years.
The sessions can be started by a web browser or by a dedicated application – be it for PC or mobile, providing two-way encryption (via AES 256-bit), role-based security (compatible with HIPAA), as well as integration with Gmail, Outlook and iCal applications for meeting schedule recording.
The Plans:
Free: The free version offers unlimited one-on-one meetings, limiting group meetings to 40 minutes for up to 100 people. It also offers the ability to record on your computer, or in the "Cloud" of meetings in .MP4 (Video), .M4A (Audio), and .txt (text chat – Chat).

The meeting starter could check the audio, video, and screen sharing for all meeting participants, who if they have something to say have the option of raising their hand.

Pro: In addition to the free version options, the Pro version ($14.99 months/host) offers meeting times up to 24 hours, 1 GB of Cloud storage, user management and other tools for administrative controls (appoints someone to arrange appointments for you) as well as Skype interaction for Business.
Business: The business version ($19.99 months/host, starting with 10 hosts) supports up to 300 participants, administrator panel, convenient links (eg ants.zoom.us), login using your company's accounts (Single Sign -on), brand marking of the company, integration with LTI (Moodle, Canvas, Desire2Learn, and Blackboard), as well as Transcription of recordings in "Cloud".
Enterprise: If you need more than that, you can get the enterprise version for the same price as the above plan, but you have to pay for at least 100 hosts – so $19.99/month. This version, in addition to the options for the business version, offers support for up to 500 participants (Enterprise Plus offers up to 1,000), unlimited storage in "Cloud", and other business qualities.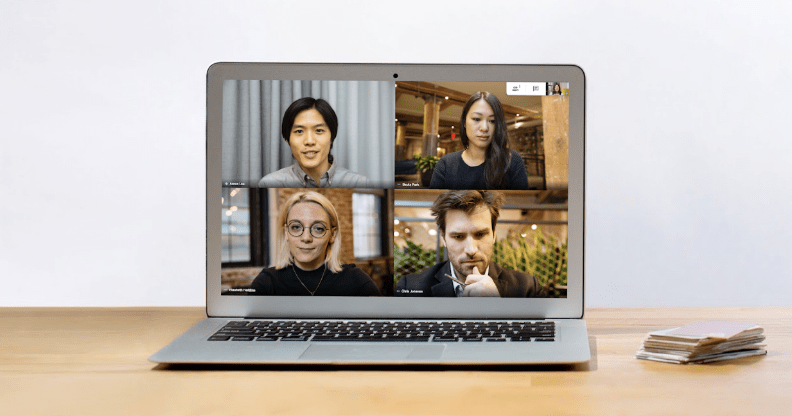 Another video conferencing software for 2020 which you can use is Google Meet. Google Meet is an integral part of the "G Suite" and "G Suite for Education" app packages, and is a replacement for Google Hangouts in the accounts they pay for these two packages. Being part of Google's application package, it is fully integrated with other G Suite applications. This means that you can schedule a Google Meet appointment directly from Google Calendar, and send out invitations to this email meeting using Gmail.
If you use the app, which comes for both Android and iOS, you will receive notifications of the meetings you have that day, to which you can respond (participate) with a single tap. And if you use the Enterprise version of the G Suite, you can join the meeting by phone while you're on the go, where you don't have access to the Internet. If you use other meeting apps like Skype or Microsoft Teams, or any other app that uses SIP and H.323, you can join a Google Meet meeting using the Pexip Infinity Platform.
The Prices:
Google Meet can be purchased through the G Suite Basic package for $6 per month for users – which supports up to 100 participants, or through more advanced packages, such as business ($12 months/user) or enterprise ($25 months/users) which support 150, respectively 250 participants.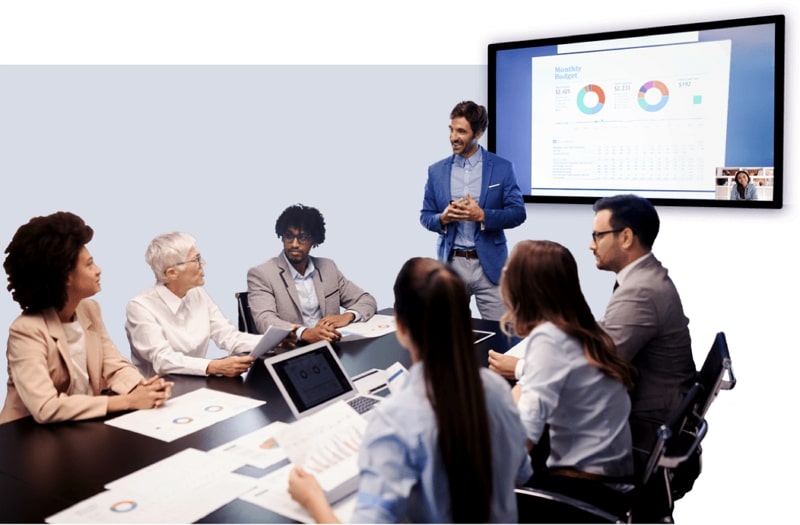 This award-winning video conference software and meeting room it has become the go-to cloud based communication alternative. LifeSize the "world's first global 4K video conferencing solution" according to then, its being used by thousands of organizations in more than 100 countries.
With some of features, that may be also its downsides to, we can mention its own hardware that the LifeSize comes, but as it seams a great feature, it increases the price of the final product, which is why medium and smaller companies can hardly effort it. The software includes also monitor meeting rooms, set up a centralized directory of users, configure the home screen, and more.
The Plans:
LifeSize offers a Free 6 months trail plan with unlimited meeting duration, up to 25 participants, a personal meeting room and support for both Desktop and Mobile devices.
Standard: For small teams there is the ($16.95$ host/month) standard plan, with all the above Free 6 months features, up to 100 participants, Single sign-on (SSO) support, 24 hours of meeting and more.
Plus: If you need more, you can have all the Standard features mention above in the ($14.95 host/month) Plus plan with 15/hosts minimum order, plus up to 300 participants, Microsoft integrations, 1 hour cloud recording storage per host, and more.
Enterprise: For large organizations, there is the (12.95$ hosts/month) Enterprise plan with a minimum of 50/hosts order, that has all the Plus plan features, up to 1,000 participants, Unlimited US audio calling, Unlimited meeting recording, and more.
> Check Next: How To Export WhatsApp Chat as PDF using WPS Office
So here you have top 7 best video conferencing software alternatives for video conferencing and video meeting which you can use in 2020 according to your business needs. Hope you found this article useful. Follow us on twitter and facebook for more news and updates.
neoAdviser
[td_block_11 category_id="3″ limit="1″ td_filter_default_txt="" tdc_css=""][td_block_ad_box spot_id="custom_ad_3″ tdc_css=""]