Even though the hunting season is still a bit too far away, that doesn't mean you can't start preparing for it. You are probably excited about it coming up so why not get excited about new hunting gear and gadgets that are a must-have for this year. So, if you are on a lookout for new gadgets, make sure to invest in some of these great pieces.
Quality Holster
If you have the habit of taking your handgun with you to hunting, then you probably know that your piece needs a nice holster. The Sportster Bandolier Scoped Handgun Holster is a great solution because it has a nylon web sight channel and is a safe solution. You can fit your scoped handgun in there safely and always have it at hand, whether if you're left- or right-handed. Plus, it's made of durable polyester laminate and has removable flaps, holding the firearm in place. 
Hitting the Target
You probably already have enough guns on your hand, but it's often difficult to maneuver them when out hunting. In situations when you need to be quiet and steady, what comes in handy is a stable bipod, such as the Pivot Traverse one. Such gadgets allow hunters to stay steady or become even more agile and to switch between animals fast. What is more, some bipods offer horizontal track back and forth which can quickly expand your field of fire without having to reposition your rifle. What is more, this doesn't have to be your only rifle accessory, and you can find cool hunting gear at https://thegearhunt.com/. 
Quality Knives
Every hunter should have a few sharp knives at hand and there are some great examples from this year's trends. If you would like to go more old-school then you should consider the DH Russell Belt Knife which has an original hunting knife design created way back in the 1950s. It has a great grip, unique blade and palm, and finger fitting offset handle. 
Other great examples include Havalon Knives and their Piranta Bolt which has an ABS handle, rubber grip which is easy to clean and it has ambidextrous thumb studs. The blade is a bit thicker but it just provides the knife with more strength and easier handling. So, if you'd like to update your knives collection before the hunting season starts, then you should consider some of these. 
Light Strips
Since hunting at night can sometimes be dangerous, it's best to be well lit but in a subtle way. As a hunter, you already know how important light strips are, but maybe you need to restock. So, if you're looking for new adhesive light strips, maybe you should rely on Brite-Strike's APALS. These have green light spots which have been a huge hit with hunters because the green color is not detected by animals. This only makes these strips valuable and useful for marking trees, yourself or any other mark you need to remember. However, if you don't want these ones, just make sure to look for adhesive light strips that feature green light and you will already majorly update your gear. 
As a hunter, you know how essential quality gear is. You are outside, constantly moving and hitting the target can sometimes be a challenge. Luckily, with this year's best gear, the hunting season can be even more enjoyable and easy to tackle. So, look for new knives, some add-ons for your riffles and great holsters for your handguns, and you will never have to worry about having issues while hunting or about lacking essential gear.
neoAdviser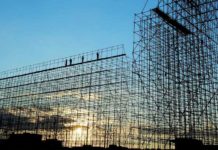 Scaffolding is an indispensable part of the construction industry. It helps in making life easier for construction workers. The industry uses this system for...