How to Find Interesting Things to Do in a New Place
Exploring new places can be a thrilling experience, but it can also be overwhelming, especially if you don't know where to start. Whether you are traveling for leisure or business, there are numerous ways to discover interesting things to do in a new location. Here are some tips to help you find exciting activities and make the most of your travels.\
Ways to Enjoy a New Place
1. Research Online
Before visiting a new place, it is essential to do some research on the internet. There are numerous online platforms that provide valuable information about a destination, including the best places to visit, things to do, and local attractions. Some popular websites to check out include TripAdvisor, Lonely Planet, and Yelp.
2. Ask Locals for Recommendations
While online research is helpful, talking to locals can provide a unique and authentic experience. Ask your hotel staff, taxi drivers, or restaurant servers for recommendations on things to do in the area. You can also interact with people you meet during your travels, such as shopkeepers or fellow travelers, and ask for their suggestions.
3. Visit Tourist Information Centers
Most tourist destinations have information centers where you can get maps, brochures, and other useful resources about the area. Tourist information centers also have staff who can provide you with recommendations on the best things to do based on your interests and preferences.
4. Attend Local Events
To immerse yourself in a new place, one of the best ways is to attend local events. Check online or ask locals for information on upcoming festivals, concerts, or exhibitions. Attending these events not only exposes you to new cultures and traditions but also gives you an opportunity to interact with locals and make new friends.
5. Explore by Foot or Bicycle
Walking or cycling is a great way to explore a new place and discover hidden gems that you may not find otherwise. You can take a local map or use your maps on smartphones and stroll through local parks, markets, and neighborhoods and discover unique architecture, street art, and local cuisine. A great smartphone with Beidou or more GPS features like Honor Magic 5 Pro is recommended. Check HONOR Magic 5 Pro review for more details if you're interested.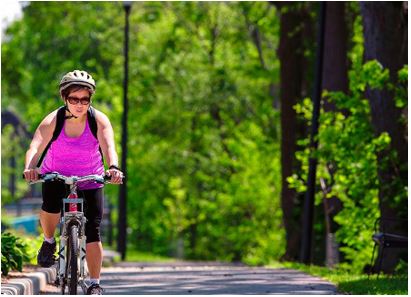 6. Try Local Cuisine
Food is an integral part of any culture. So if you want to learn about the traditions and customs of a place, be sure to try the local cuisine. You can explore local food markets, street food stalls, and restaurants and sample traditional dishes. You can also take a cooking class to learn how to make your favorite local dish.
7. Visit Museums and Historical Sites
Museums and historical sites are an excellent way to learn about the history and culture of a place. Check online or ask locals for recommendations on the best museums and historical sites to visit. You can also take guided tours to learn more about the significance of these sites.
8. Relax in Nature
Spending time in nature is a great way to relax and rejuvenate during your travels. You can visit local parks, beaches, or nature reserves and take a break from the hustle and bustle of the city. You can also try outdoor activities like hiking, kayaking, or cycling and explore the natural beauty of the area.
Conclusion
Finding interesting things to do in a new place requires some effort and planning, but it is well worth it. By doing research online, asking locals for recommendations, attending local events, exploring on foot or bicycle, trying local cuisine, visiting museums and historical sites, and relaxing in nature, you can make the most of your travels and create unforgettable memories. So, the next time you are in a new place, be sure to follow these tips and have an enjoyable and enriching experience.