Less is More: Minimalist Approach to Interior Decor
"Less is more" is the general maxim for minimalist designs. Minimalist designs are simple, harmonized, and monochromatic to create vivid and emphatic visuals. They exude calm and serene aesthetics, focusing only on the essentials⸺the medium and material that form the art.
The minimalist approach is unadorned. It focuses on the essential elements to produce an austere and clean look. Minimalism strives to present the purity and beauty of the medium. As espoused by Frank Stella, one of the proponents of minimalist arts, What you see is what you see. Minimalist artists denounce all kinds of artistic pretensions and present their works as they are. The artists want the viewer of their work to respond to the art presented before them without conferring any external realities on it. The object and medium that form the work of art is its reality. In keeping with its ideal, minimalism in interior decor brings attention to the architectural features of a place. It maintains an elegant, crispy-clean, and simple design. It unsurprisingly employs a monochromatic palette, with colors serving as accents. A minimalist design portrays a preference for comfortability before aesthetics. Although a minimalist interior is often driven by functionality, the ambiance of a minimalist-designed space is both pleasant and cozy. Minimalism fundamentally eschews all superfluous and pretentious stuff, and the effect is often a sleek, sophisticated, and relaxed look. We put together a working guide for a minimalist design.
Clear all cluster
The goal of minimalism is to keep everything bare. All item items and personal paraphernalia must be kept away from sight. The surfaces should not be a collection point for random items like sunglasses, car keys, papers, etc. A minimalist design means that you are eliminating all items that are not essentials in a room. Hence anytime you spot an item that you can put, you should always do so.
Embrace Neutral and Subtle Colors Combinations
Colors in minimalistic designs are often monochromatic. It incorporates neutral backgrounds to create a squeaky clean, calm, and cozy ambiance.  But monochromatic does not mean sterile and bland. Using different shades and color texture create an interesting pattern. A mixture of white and light grey tones with black and dark grey tones often comes out clean and sophisticated. If you prefer a little color, you can use more bright colors as an accent or lighter shades as foreground colors. A common design preference in minimalism is an open floor plan with lots of natural light. It gives the room the perfect austere beauty of minimalist decor.
Emphasizes on Functionality
Keeping the whole place lean and uncluttered for only the required essentials is the goal of a minimalist approach. Plenty of storage space to accommodate belongings and the use of multipurpose tables and fixtures. Due to the preference for functionality, furniture is very important in minimalist spaces. The rooms are designed in a way that highlights their function. And the less extraneous the items in the room, the more prominent the furniture is.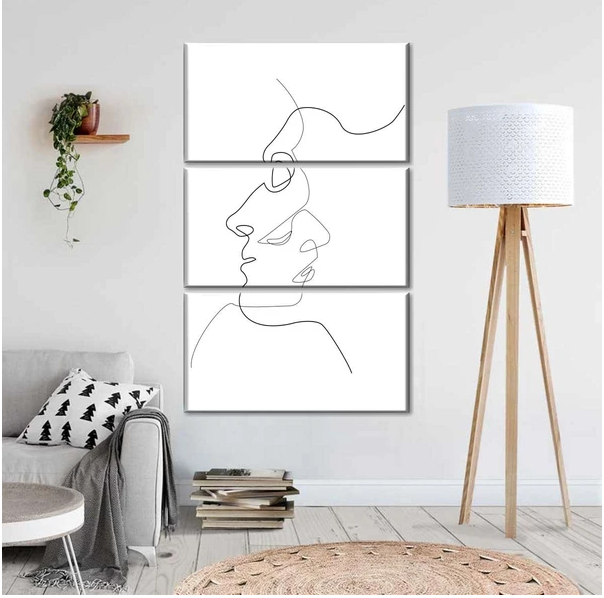 Conclusion: Keep it Simple
The key to pulling off a minimalist design simplicity. Keeping everything bare to accommodate only the essentials. For useful inspiration check out minimalistic wall art