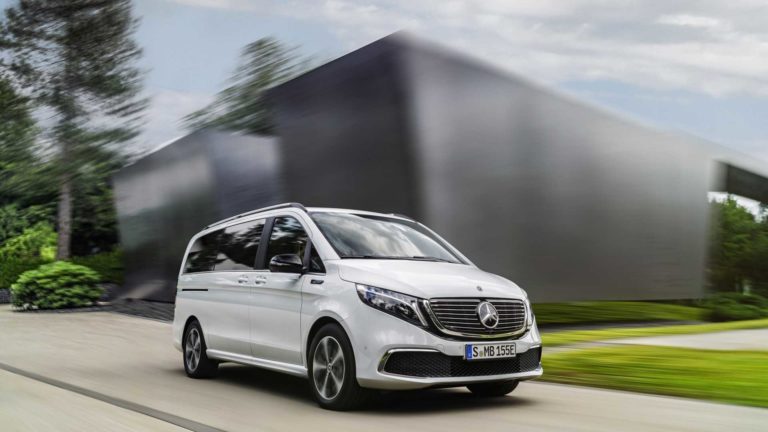 [td_block_ad_box spot_id="custom_ad_2″]
Formerly presented in the form of a concept, EQV is designed for private buyers who want not only comfort but also practicality. The official debut is next month at the Frankfurt Motor Show.
The distance that the EQV can travel with a full battery charge is 405 km. Power is stored on a 90kWh lithium-ion battery mounted on the van's floor to improve aerodynamics and provide maximum interior space.
The battery can be charged from 10% to 80% in just 45 minutes. The engine power is distributed on a 201-horsepower electric motor, enough to send the car 3,500kg at 160km/h.
The car comes with power regeneration technology through the braking system, a process that will increase the distance that the car travels with a single charge. With power regeneration through braking, Mercedes says the EQV can only be operated with gas pedals.
The internal dimensions of the EQV are as much as the standard V-Class model on which it is based. Six, seven and even eight seats can be installed. The EQV will be built in two sizes.
The MBUX Infotainment system comes standard with 10-inch high resolution screens. They show real-time switching and power consumption. The system can be controlled with voice.
European EQV buyers can use the Ionity charging network which will consist of 400 stations across Europe next year. The Mercedes EQV retains the V-Class's silhouette, dimensions and style but has a new EQC engine grille and 18-inch alloy wheels. The interior will be fitted with gold and blue ornaments.
EQV will go on sale in 2021 for €65,000, about €15,000 more than the base V-Class.
[td_block_11 category_id="3″ limit="1″ td_filter_default_txt=""][td_block_ad_box spot_id="custom_ad_3″]