Rooftop Bars In Singapore
If you're done shopping and doing other touristy things in Singapore, then the best thing to do is to unwind. And you can do it in a rooftop bar in Singapore. Below are some of your best options in Singapore.
Ce La Vi (Singapore)
Ce La Vi is located on the 56th floor of the world-famous Marina Bay Sands in Singapore, at 200 meters above sea level. Because of its location, Ce La Vi offers some of the best rooftop views of Singapore. This is a trendy bar frequented by Singapore's hippest and coolest people But you shouldn't go to Ce la Vi just to party. You should try their food as well. They have tasty and exciting modern Asian dishes that will surely satisfy your gustatory cravings(which are known in Singapore). After dinner, you can simply lounge and enjoy the views while sipping one of their signature cocktails. DJs start spinning late at night and the party can go on until the wee hours of the morning.
Hotel Jen (Singapore)
Hotel Jen is located in the middle of Orchard Road, the famous shopping street in Singapore. Even if you're not checked in at Hotel Jen, you can still visit their rooftop bar, which feels like an urban oasis with its tropical garden vibe. If Ce La Vi is the place to go if you want to party in Singapore, the rooftop bar in Hotel Jen is the perfect place for chilling and relaxation. The main attraction of the bar is its large and lovely infinity pool. The pool comes with a pool bar so you can enjoy your favorite drink while taking a dip.
Southbridge (Singapore)
Southbridge is perfect for people who are looking to have the best view of the Singapore River. It is located along the popular Boat Quay river walk. But even if there are dozens of bars in the area, Southbridge manages to stand above the rest with its excellent selection of wines and bubblies and signature cocktails. It is also an oyster bar and one of the best places in Singapore to have fresh oysters served in a variety of ways. Unlike other bras in the area, the vibe here is much more relaxing. The service is excellent as well as almost all places in Singapore.
Mr. Stork (Singapore)
Do you want to lounge in teepee huts while drinking a refreshing cocktail and having a 360-degree panoramic view of Singapore? Then you have to go to Mr. Stork, which is located on the 39thfloor of Andaz Singapore. The bar is located along the busy Bugi street but being 39 floors above street level makes you feel removed from the hustle and bustle of the city. If you're not into cocktails, then you can order their signature Andaz Pale Ale. Their selection of bar bites is interesting too.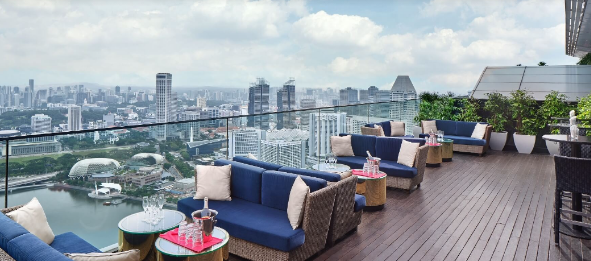 Smoke & Mirrors (Singapore)
At the top of the National Gallery Singapore is a stylish bar known as Smoke & Mirrors. The bat offers an amazing view of Esplanade Park, Padang playing field, and Marina Bay. The view from within is great as well because of the bar's modern interiors. They have a wide selection of wines, cocktails, and tasty bar food.
For more articles like this which talks about Singapore places or other tourist attraction check : https://www.neoadviser.com/
Also Check this post : https://www.neoadviser.com/how-to-stay-safe-while-travelling/