Not Sure What To Buy For Your Gamer Friend? Here Are Some Good Ideas
Do you know what to get your gamer friend for the holidays? Look no further, we have compiled a list of gift ideas that will make any gamer happy. From consoles and games to accessories and collectibles, there is something in this list that would be perfect for your gaming friend! With these items, they will never get bored and always have a good time. If you get the right gift for your friend, you can also give them an opportunity to make a profit out of it. Selling collectibles has been a very profitable venture lately, and if your friend is lucky enough, your gift might be worth a fortune in the future!
Board games
These games are great for friends who want to get together and have a friendly board game competition. If you have a group of competitive people, it won't be hard for them to find a friend to play against! Board games can also help strengthen friendships because they bring people closer. This is the perfect gift idea for gamers who love social interactions with their friends. Some of them also include a lot of miniatures and customizable figurines that will keep your friend entertained for hours on end. For instance, if he or she is interested in Warhammer games there are a ton of resources online where different Warhammer 40k Factions are described. So if your gamer friend loves to spend hours on the computer reading about Warhammer factions, they will love a game that allows them to put all that knowledge into practice.
Console games
Console games are always a great gift idea for your gamer friends. If they're into first-person shooters, action-adventure, or role-playing games, then they will definitely appreciate a new console game to play. It's the perfect way to keep them entertained and coming back for more! You can also make your gift even more special by purchasing them a console of their own. If your friend doesn't have money to buy their own console, you can always forgo the pricey console purchase and help them build up their game library instead. There are a lot of games available on the Internet and you can find great deals if you follow up on holiday sales. This way your friend can get the games they want and you won't have to break the bank.
Gift cards
If you don't know what game your friend wants or if they already have a console, you can always purchase gift cards for them. This way, they can get the games they want and you don't have to worry about picking the wrong kind of game. You can even purchase them a gift card for their console store so that they can buy the console itself and any accessories they need.
Gadgets
If your friend isn't into video games at all but loves gadgets, you have even more options available! There are tons of different fun gadgets on the market that will keep them entertained and they probably never imagined that these items existed. You can surprise your friend with an Oculus Rift headset or go really crazy and get him or her a 3D printer! There are also more practical gadgets such as the Amazon Echo or Google Home. These gadgets can help your friend with their everyday tasks and make their life a little bit easier. If your friend is always busy, these gadgets will be a godsend!
Gaming peripherals
If your gamer friend already has a console and a library of games, you can still surprise them with gaming peripherals. This could include anything from a new controller to a VR headset. If they're into competitive gaming, then these peripherals could give them the competitive edge that they need to win. Gaming headsets are another great gift idea, especially if your friend likes to play online with other players. It's the perfect way to get in touch with them and chat while you're playing! You can also find gaming headsets that have to surround sound, which will make the gaming experience even more immersive for your friend. You can also think about getting them a new controller for their console. A lot of people break theirs or just want to have extra ones so they can play with friends. It can also be a great way for them to test out different types of controllers and see which one is the best fit for them.
Clothing
Clothing is another great gift idea for your gamer friends. They can use it to represent their favorite game or console. There are a lot of companies that make gaming-themed clothing, so you're sure to find something that your friend will love. You can also purchase gaming-themed accessories, such as hats, backpacks, and keychains. You can even purchase them a custom gaming poster or a gaming-themed laptop sticker! Clothing and accessories are great because your friends can use them to express their love of gaming. If you have a friend who loves Minecraft, then they will definitely appreciate a customized costume or an accessory with the Minecraft logo on it! It's the perfect way to show off their love for the game and give them a sense of pride.
VR Set
VR is becoming more and more popular these days, so it's a great gift idea for your friend who loves gaming. Gamer friends who love first-person shooters will enjoy a VR headset the most! It gives them a first-person perspective on their games and makes them feel as real as possible. This is the perfect gift if your friend already has a high-performance PC because many of the headsets require one to use. If you don't want to buy them a custom-made VR set, then another great idea is to purchase an Oculus Rift or HTC Vive card that can be used with their home computer. They will still get all of the immersive features that they would from purchasing a new VR headset, but without having to purchase a pricey console too!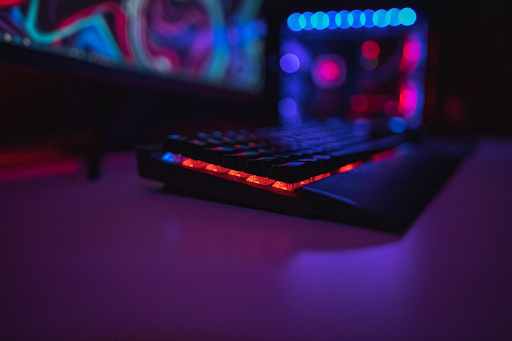 If you're looking for the perfect gift idea, look no further! Whether your friend is into games or not, there's something on this list that will be perfect. From clothing to gaming peripherals and more, these are all great ideas for gifts to purchase for the gamer in your life. If they already have a console or don't want one because of price reasons, then buying them game cards would make an excellent gift too. It doesn't matter what type of person you're shopping for – with this list as inspiration, it should be easy to find the right present without breaking the bank!