Understanding The Many Benefits Of Meditation
Meditation is an ancient practice that has been getting a lot of attention in western society over the past few decades. Many people believe sitting cross-legged on their yoga mat, or zafu is the only way to meditate, but that is not true. You can meditate anywhere. The key is to find a comfortable position, focus on your breath, and let go of all other thoughts.
Some people recognize and understand meditation to relax and de-stress, but there are many other benefits you may not be aware of. These include:
Reduces stress 
One of the key benefits of meditation is that it can help to reduce stress. When we're stressed, our body releases cortisol, a hormone that can have harmful effects on our health if released at high levels over a long time. Meditating can help keep cortisol levels under control, which can improve our overall health and wellbeing.
Improves focus and concentration 
Meditation can also help to improve our focus and concentration. When we can focus better, we can get more done and feel more productive. In addition, concentrating better can also lead to improved mental clarity. When meditating, you can also use a BrainTap to stimulate different parts of your brain and find the corresponding mental state that it brings about. [a brain tap is a biohacking tool that can be used for this purpose]
When you're trying to focus better on what you're working on, brain tap can help by stimulating your prefrontal cortex.
Improves sleep quality
Meditation is not only an effective wellness tool for stress relief, but it also enables you to relax your mind and body more fully. This can lead to improved sleep quality, which has benefits beyond feeling more rested the following day. Many people experience insomnia or difficulty sleeping due to stress or other factors, making this a critical use of meditation.
In addition to stress, many other reasons may affect your sleep. If you suffer from a chronic condition or illness, it's challenging to fall asleep at night because of the pain you experience. Side effects of medications can interfere with sleep quality and quantity. So it's essential for people who use medicine to manage chronic conditions also to practice meditation, as it can help offset some of the adverse effects of medication on sleep.
Meditation has even been shown to improve people's sleep quality who don't have any significant health concerns. A study published in JAMA Internal Medicine found that people who engaged in mindfulness meditation for eight weeks reported improved sleep quality and duration.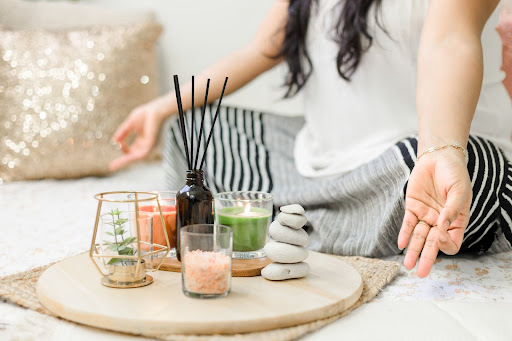 It helps to control anxiety.
Another benefit of meditation commonly reported by people who start meditating is anxiety reduction. Though it isn't clear why this occurs, some experts have suggested that meditation can help combat feelings of helplessness, which are often at the root of anxiety. They have been shown to increase positive emotions while decreasing negative ones, reducing fear, worry, and stress.
If you are looking for relief from anxiety, meditation is well worth trying! Just find a quiet, comfortable spot where you won't be interrupted or distracted. Then breathe deeply and focus on nothing but your breath as it goes in and out. Avoid trying to "figure out" the solution to your anxiety at this moment. After all, there may not even be one! Focus on being in this moment rather than worrying about what will happen next or fretting over the past. Over time you'll likely notice that your anxiety has melted away. Meditation is an effective way of combating anxiety. By learning to focus on your breath and stay in the present moment, you can slowly but surely lessen your anxiety levels. Try it! You'll be stunned at however well it works..
It enhances self-awareness
One of the key benefits of meditation is that it enhances self-awareness. This means that you become more aware of your thoughts, emotions, and behavior. When you are more aware of yourself, you can change how you think and act to be happier and healthier.
When you meditate, you learn to focus on the present moment. This is a skill that can be applied to every area of your life. When you are more focused on the present, you are less likely to get caught up in worries about the past or the future. This can cause a lot of peaceful and happier life
It decreases blood pressure and takes stress off the heart.
With this comes increased energy and a happier mood. It reduces anxiety and depression. Stress releases hormones that weaken the immune system, thus creating more illness and disease in the body. Meditation increases blood flow to the brain; we all wish to be healthier and more intelligent! It induces deep, restful sleep by slowing down brain waves. This rejuvenates the body, mind, and spirit. It's also a great way to connect with the spiritual realm. Some people who meditate find it helpful in overcoming addictions. Last but not least, it can help us age more gracefully. There are so many benefits to meditation. It's no wonder it has been around for centuries. Meditation is an age-old practice that can benefit the modern person. If you're not currently meditating, I encourage you to try it. It might surprise you how wonderful you feel after just a few minutes of practice each day.