The end of the "Game of Thrones" has sunk into the desperation of millions of fans around the world. Many for the finals that did not please, others for the fact that a very loving series has already ended.
A real trauma, to the point that someone has thought to set up a psychological support service for anyone who may feel "orphans" of the intrigues and adventures of the Westeros world.
Cutting relationships with the series after 8 years can be very difficult. Thus, the English website "Bark.com" has decided to provide a psychological counseling service through the Skype application.
One can talk to an expert, knowing everything from Game of Thrones can turn them into normal and help them accept the latest batch of tragedies.
Everything for a $25 for a 30-minute session and $50 for an hour. This situation, almost in the paradoxical limits, that in these hours has also sparked many satirical reactions in the network.
There were those who wrote: In Oslo, the first support project to overcome the feeling of abandonment at the end of a television series.
It would be to laugh if the reality was not really such.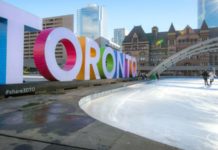 Our topmost list of five great things to do in winter in Toronto sounds one of the most adventurous things you can ever dream...