Are you looking for the highest lumens flashlight list in 2019? Then you have come to the right place as we are going to show you the top picks. There are many new models come on the market every month but not all of them are the brightest flashlights. Well, having a flashlight in your pocket is the best thing. It is a very handy everyday carry device. When you will search on the internet, you will find many reviews of the flashlights. Most of the articles there are written by non-expert people. They do not know about the flashlights and how they work. A flashlight does not only help you see through the dark but can also good for self-defense. The material used to build a flashlight is very strong and can help hit the thug hard on his head.
Anyhow, the prices of a flashlight are different and it depends on your budget that which you can buy. We will help you buy the best flashlight in your budget. We also give you some insight by an in-depth review of the flashlights. The cheapest flashlights usually use AAA batteries and can give you an output of 100 lumens. So, we will review the AAA and AA batteries flashlights which are as follows:
AAA Batteries
MANKER E02
It is one of the best picks in the low price range. The length of this light is just 72m and have a diameter of 20mm. Moreover, it comes with two lights, Nichia 219c and XPG3. Also, you can buy a headband to use it as a headlamp.
Specs
Have two beams Nichia 219C (180 lumens) and XPG3 (200 or plus lumens)
Built-in Magnet
Also, includes a pocket clip
Use AAA batteries
Have 4 modes Moon, low, high and Turbo and have 3 strobe modes.
THRUNITE TI3
It is a tiny flashlight and cost between $10 to $20. The actual price depends on the LED light you want. It is a brighter AAA powered flashlight and one of the top picks. Moreover, the size is so tiny that it can easily fit in everybody's hand. If you want a cheap but high-quality flashlight then we will recommend you to buy it.
Specs
This flashlight comes with XPG LED (120 lumens) and XPL LE (130 lumens).
Easy to hold in your hand.
Moreover, you can even use rechargeable AAA batteries.
It has strobe mode too and three different light modes (low, medium, high).
The best thing is that you can use 10440 batteries but it can void your warranty.
ACE BEAM PT10
Recently, this model has upgraded with XPL-HD led, which is really a bright Led light. It can output light of 360 lumens. You can also use rechargeable AAA batteries in this flashlight but cannot use alkaline. When it comes to the battery time, it can run up to 40 minutes on high mode. Moreover, it has two versions, one with copper that costs around $70 and the second is aluminum which can cost you around $32.
Specs
Need 2 AAA batteries and available in Silver, Grey, Copper and Black colors.
Can output 360 lumens with its XPL-HD LED.
AA Batteries
LUMINTOP EDC05
AA powered batteries usually have a high lumens output. This flashlight comes with cold while as well as Neutral while light. Moreover, it has 7 different light modes and 87mm line. It can run up to 1.2 hours on high light mode with a rechargeable battery. The price is very reasonable for such a handy flashlight. It just costs you around $30.
Specs
It can output 400 lumens light on AA battery and 800 lumens on 14500 cells.
Moreover, you can use NIMH and Lithium-ion batteries.
It has magnet tail and has 4 different modes and 3 strobe modes.
UTORCH UTO1
This flashlight is in the market since 2016 and still is one of the best-selling.  Moreover, it is available in two different LED's. You can choose either model that best suits your needs. It can output 450 lumens of light and 900 lumens on 14500 cells.
Specs
900 lumens on 14500 and 450 lumens on AA.
Also, has 4 light modes and a hidden strobe.
It also has a low output mode for longer runtime.
neOadviser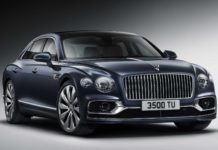 After presenting the latest Continental GT Coupe in 2017 and its GT convertible, Bentley will now complete the family with the four-door Flying Spur...