Volkswagen T-Roc current model has undergone slight changes, only that now will be able to open the ceiling, which is covered with a soft layer.
The company has shown in several images this model, which will be launched during the coming month at the Frankfurt Motor Show.
Although it seems to be for all terrains, it is in fact only for urban areas. The specifics of the new T-Roc have not been announced, only knowing that it will have a capacity of 114 and 148 horsepower.
VW T-Roc Cabriolet (2019)
High tech is set on the Volkswagen T-Roc, which will rival the Nissan Murano CrossCabriolet and Land Rover Range Rover Evoque, as a very good car.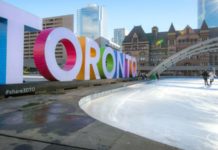 Our topmost list of five great things to do in winter in Toronto sounds one of the most adventurous things you can ever dream...