Audi has unveiled two RS models from the Q3 family at the same time. In addition to the next generation Audi RS Q3, there is a high performance variant of the Q3 Sportback coupe.
Under the hood of both cars is the same engine – a 2.5-cylinder turbo petrol that delivers 400 horsepower and is paired with a 7-speed S automatic.
The power is transmitted on all four axles with Audi's quattro system. RS Q3 and RS Q3 Sportback accelerate from 0 to 100 km/h in just 4.5 seconds before reaching a top, electronically limited 250 km/h.
Audi RS Q3 and RS Q3 Sportback arrives in October. Price of Audi RS Q3 in Germany starts from 63,500 euros, and the Sportback versions from 65,000 euros.
2020 Audi RS Q3 Sportback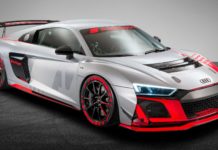 A year after the introduction of the redesigned R8 by Audi's competition department, the redesigned and updated R8 LMS GT4 arrives, sharing about 60...