The GLC-Class Coupe has been updated, but has undergone some minor changes, making it almost impossible to distinguish.
In the exterior, the GLC Coupe's Grille is a bit more aggressive, and differentiates it from regular GLC with the grille background and a thick band in the middle.
Bumper, backpack and headlights have been modified quite easily.
Inside, the car has the same instrument panel and information system with the standard version. All versions of the GLC-Class have a 10.25-inch touch screen with the MBUX interface.
The car has the most advanced command system with voice and touch. As an optional option, buyers can also get the 12.3-inch screen for the instruments.
Under the skin, the GLC Coupe has an updated turbocharged 2.0-liter four-cylinder engine that produces 14 horsepower more for a total of 225 horsepower.
Power is transmitted through automatic nine-speed automatic chassis on two rear wheels or on all wheels.
The options are for Mercedes to introduce six and eight cylinder AMG versions.
The price has not yet been announced, but should be close to the crossover price that is on sale for now.
2020 Mercedes-Benz GLC Coupe
The Crossover will make the public debut at the Car Show in New York next month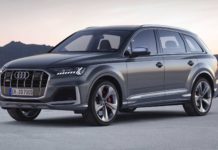 Audi SQ7 is the first model from the Volkswagen Group to get the 4.0-liter TDI V8 engine with 900 Nm rotating power in March...