Acer revealed yesterday latest gaming monitor. The 43-inch CG437K model has a refresh rate of 144hz and an Ultra-HD 4K resolution of 3840×2160 pixels.
There is a sensor that automatically adjusts the brightness of the screen depending on the light level in the room while a proximity sensor decides when it should awake the screen and when it comes to sleep when you are not in front of it.
The monitor will be sold in the US, Europe, Middle East and Africa in September at a base price of 1,500 euros.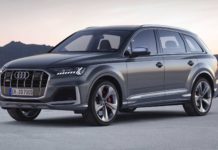 Audi SQ7 is the first model from the Volkswagen Group to get the 4.0-liter TDI V8 engine with 900 Nm rotating power in March...