-Do you back up your PC data regularly?
-Of course I am not!
This conversation often happens in our lives. Many of our friends even ourselves rarely back up computer data regularly. What should we do if something unexpected happens? For example, a PC is suddenly damaged, or data is lost due to a virus intrusion or incorrect operation. So we should keep in mind "Backup Data is Important"!
[td_block_ad_box spot_id="custom_ad_2″ tdc_css=""]
At this point, you might say "Backup is time-consuming, and I can't remember the steps of backup". Yes, I don't like complicated things either, so I rarely do manual backups. But recently, for the first time in several years, I used a backup software to replace my rare manual backup for doing a backup. The tool called AOMEI Backupper – a best backup software to protect our valuable data forever. The biggest feature of it is that it is easy-to-use and it can be easily used to back up for PC beginners. Don't worry about paying, because there is a free version of AOMEI Backupper. Although there are some restrictions on functions of free version, free regular backups and even disk/partition clone and other operations can be achieved. Next, I will introduce AOMEI Backupper in detail based on my personal feelings after using it. I hope this article can help those who want to easily back up their computers, or want to make a backup but do not understand the backup process, or just want to back up specific files and folders.
What Is Backup?
First, what is backup? Some people get it wrong sometimes, so let me mention it briefly. The backup is that the same data exists in two separate locations, and we can restore the data even if the data in one location is lost.
Do You Need Backup Software?
If you have a lot of important data on your computer, if you are not familiar with PC, or if you are not used to regular backups, we recommend that you try backup software. When you actually use it, you will feel that it is so easy to do regular backups with software, and you no longer have to worry about any data loss.
About AOMEI Backupper
AOMEI Backupper is the backup software of AOMEI Technology. AOMEI Technology is a software development company specializing in backup and disk management. Its products are recognized by users around the world. AOMEI Backupper Standard is an all-in-one backup freeware that embeds backup, sync, restore and clone functions at a very affordable price: FREE. The paid version is AOMEI Backupper Professional, but the backup can be done by using the free version. For normal use, I think the standard version is completely sufficient.
The AOMEI Backupper Standard allows the following backups:
System backup: All contents of the system partition, such as Windows operating system, applications, etc.
File backup: specific data files, such as documents, photos, videos
Disk backup: everything in HDD (create disk image)
Partition backup: specify a partition
How to Use AOMEI Backupper Standard to Backup Windows?
I actually backed up the entire operating system using AOMEI Backupper, so I will show you the whole process.
Step 1. Download and open AOMEI Backupper Standard from the official page. The standard version is free. Select "Backup" option from the left menu and click "System Backup".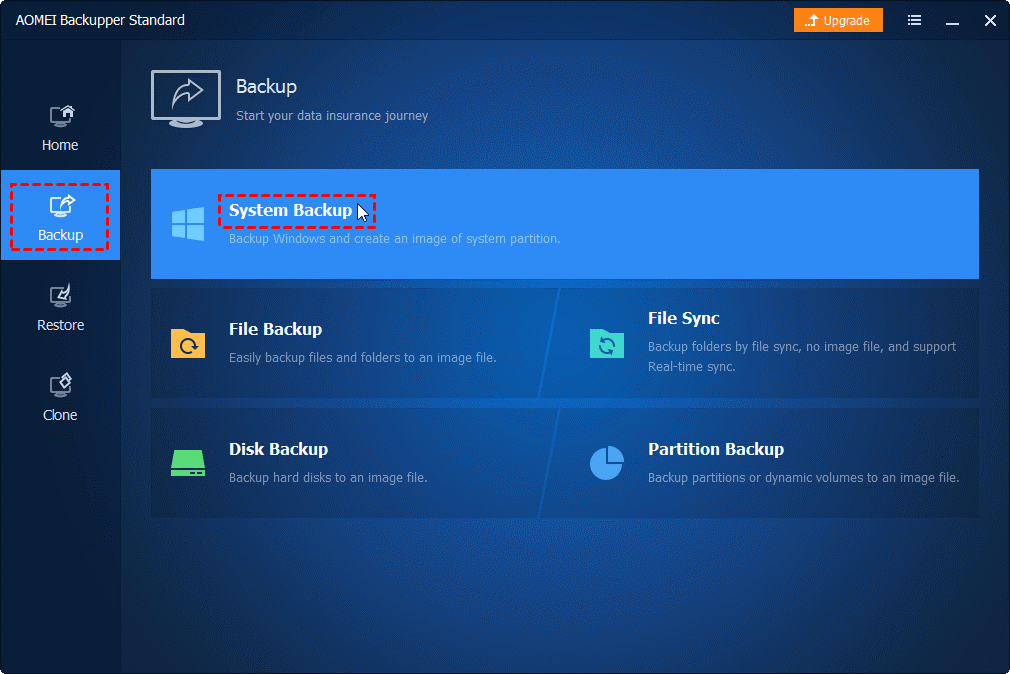 You can also choose from three backup methods:
Full backup: Make a new full backup as above. The advantage is security, but the disadvantage is that it takes time and space.
Incremental backup: Back up all changes or additions since the last backup.
Differential backup: Save only the parts that have changed since the file was last saved.
Conclusion
The above is a review of AOMEI Backupper and how to use it for a full OS backup. In addition to backing up your system, you can back up any file. If you think "I don't know what to do" or "troubleshooting", we recommend that you try a backup with this free software. You will find that the backup process is simplified and easy to perform. If you are looking for backup software, consider the easy and free AOMEI Backupper Standard.
neoAdviser
[td_block_11 category_id="3″ limit="1″ td_filter_default_txt="" tdc_css=""][td_block_ad_box spot_id="custom_ad_3″ tdc_css=""]