There is less than a month before Samsung reveals their next phones in San Francisco, but the devices have already been released online. The latest images come from the German AllAboutSamsung technology page, and show what appears to be the Galaxy S10 and S10 + from the front, back and side.
Not much new information is revealed in these photos, but they offer a clearer picture of the two-lens camera, the camera holes in the S10+ and what appears to be a refreshed UI. In addition, we can see the new Infinity-O screen, with its slim and slim end, complemented with the location for the SIM card, USB-C port and headset.
From previous reports, we expect Samsung to launch at least three new Galaxy S10 devices in the unpacked event on February 20, ranging from 5.8 inches to 6.4 inches. Some rumors have also suggested that there will be a fourth Galaxy phone – a 6.7-inch device that will probably round up the screen line.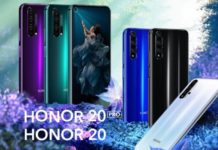 Honor launched the latest series of smartphones, called "Honor 20", at a London event.The phones debut in a new campaign titled "Capture Wonder" and...