Presented to the Korean Intellectual Property Office, patents show two different designs.
The first is an iPhone 5-like phone with rounded corners and a completely frameless screen.
The second has a similar screen, also without frames, but is slightly curved on the right side, to provide an edge.
In both cases, a flexible OLED screen is used, apparently because it is one of LG's top points.
Design patents were found by LetsGoDigital and published on Nov. 2 this year so they could be delivered a year ago. Placing the front camera is the only visible difference shown in each of the designs.
Of course, patents do not always show the complete product of the customer, but at least these show that LG is examining the development of the sleek design of phones – with a 100 percent display. However, it is not yet known when this will happen.
However, we will see their first folding phone during CES 2019 in January, according to reports so far.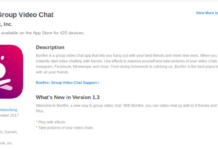 Today we discovered Bonfire, Facebook's new group video chat app, on the Danish iOS App Store. At time of writing, it's not available in the US App...