They have transformed the classic 1984 Porsche 911 3.2 Carrera model into an "Ultimate Safari Off-Road" model – for all terrains. Named Willy, by Andy Kilcoyne, the company's chief operating officer, this Porsche 911 has been completely stripped down and rebuilt from scratch, with many new features already embellishing its 80's bodywork.
Over the course of about 10 months, the Kelly-Moss team "stripped" this car and then replaced, rebuilt, rebuilt or redesigned every part of the former racing car, thus turning it into an Off-Road beast, which is poised for a possible apocalypse (end of the world).
Most interesting are the "BFGoodrich All-Terrain KO2" tires, with which this Porsche can own any environment where it is. Also, this Kelly-Mossi model comes with a unique roof panel, new protectors while its roof is made of carbon and kevlar material.
In addition, Willy comes with '9eleve'n LED lights, 30-inch LED strip and many more. Also, this Off-Road beast can carry another Porsche on the roof.
Porsche 911 Safari Overlander
In the end, it must be admitted that this is indeed a unique Porsche, which is currently available for purchase through auction at a starting price of $400,000 (about €360,000).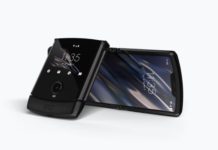 The Lenovo-owned brand, Motorola unveiled a new version of the Razr phone. It has a touch screen on the inside, no keyboard but folds...