As the most popular sport in the world and worth billions in revenue, it's little surprise that soccer players are among the highest paid sportsmen in the world. Just how much do the worlds top soccer players earn? Look below to find out!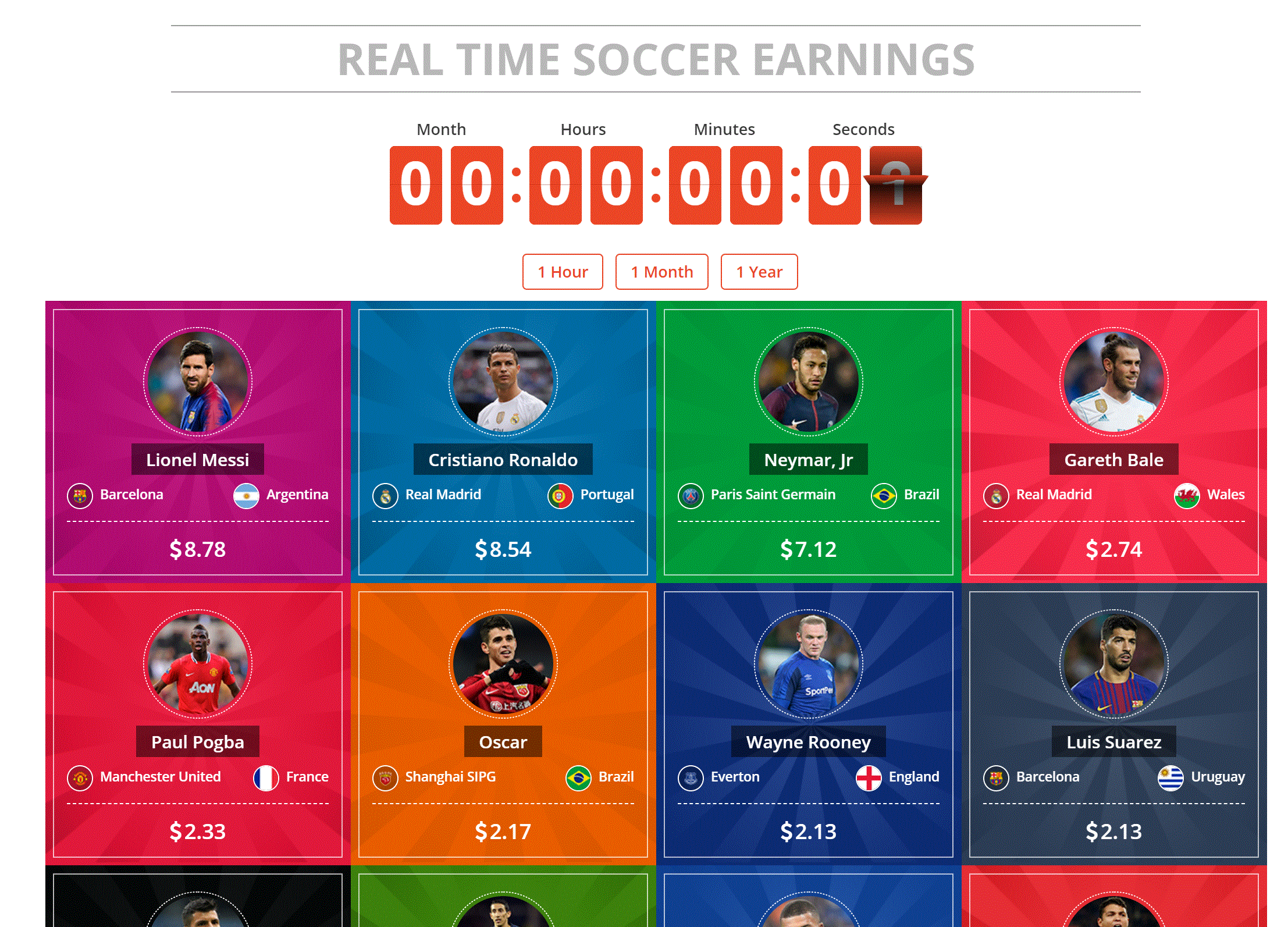 Lionel Messi
Club: Barcelona
Country: Argentina
Annual salary: $110 million
Not only the highest paid soccer player in the world, Barcelona start Lionel Messi is also the second highest earning athlete in the world! Widely regarded as the best soccer player on the planet, the Argentine forward makes around $84 million from salary while earning a further $27 million in endorsements according to Find Betting Sites, totalling an eye-watering $111 million annual salary.
Christiano Ronaldo
Club: Juventus
Country: Portugal
Annual salary: $107 million
Christiano Ronaldo is always in the same conversation as Lionel Messi for the greatest footballer of their generation, but while that debate remains contested the Juventus player doesn't quite earn as much. That said, his $107 million annual salary certainly isn't that bad!
Neymar Jr.
Club: Paris Saint-Germain
Country: Brazil
Annual salary: $89 million
After making an astonishing move to PSG from Barcelona, Brazilian Neymar Jr. became the third highest paid soccer player in the world, netting a cool $89 million each year.
Gareth Bale
Club: Real Madrid
Country: Wales
Annual salary: $34 million
With $28.6 million in annual wages from Real Madrid and a further $6 million in endorsements, Wales international Gareth Bale is currently the 4th highest paid player in the world.
Alexis Sanchez
Club: Manchester United
Country: Chile
Annual Salary: $30 million
Alexis Sanchez transferred to Manchester United from Arsenal for a modest fee, but his annual salary of $30 million is anything but. This makes him the highest paid player in the England.
Paul Pogba
Club: Manchester United
Country: France
Annual salary: $29 million
Paul Pogba was the highest earner at Manchester United before the arrival of Sanchez, yet he still earns a whopping $29 million each year, most of which is from his salary.
Oscar
Club: Shanghai SIPG
Country: Brazil
Annual salary: $27 million
Many were surprised to see Oscar move from Chelsea and the English Premier League to Shanghai SIPG in China, but the fact he now earns $27 million annually makes the move that bit more understandable.
Luis Saurez
Club: Barcelona
Country: Uruguay
Annual salary: $26 million
Barcelona forward Luiz Suarez made the move to Barcelona from Liverpool in 2014, resulting in an impressive $26 million per year contract.
Mesut Ozil
Club: Arsenal
Country: Germany
Annual Salary: $24.4 million
A new contract from Germany international Mesut Ozil has made him one of the highest earners in the Premier League, making over $400,000 per week.
Sergio Aguero
Club: Manchester City
Country: Argentina
Annual salary: $23 million
Sergio Aguero has scored an astonishing 222 (and counting) goals for Manchester City, which is why his yearly income of $23 million seems like money well spent.
That makes up the top ten soccer earners – check below for what the next top ten earners make!
Angel Di Maria
Club: Paris Saint-Germain
Country: Argentina
Annual salary: $22 million
Kylian Mbappe
Club: Paris Saint-Germain
Country: France
Annual salary: $22.4 million
Thiago Silva
Club: Paris Saint-Germain
Country
Annual salary $22.3 million
James Rodriguez
Club: Bayern Munich
Country: Colombia
Annual salary: $22 million
Graziano Pelle
Club: Shandong Luneng
Country: Italy
Annual salary: $22 million
Hulk
Club: Shanghai SIPG
Country: Brazil
Annual salary: $21 million
Zlatan Ibrahimović
Club: LA Galaxy
Country: Sweden
Annual salary: $20.9 million
Gerard Pique
Club: Barcelona
Country: Spain
Annual salary: $20.7
Antoine Griezmann
Club: Atletico Madrid
Country: France
Annual salary: $19.6 million
Edison Cavani
Club: Paris Saint-Germain
Country: Uruguay
Annual salary: $19.4 million