Top Ways Technological & Chemical Advancements Push Businesses Forward
In the modern world, technology and chemistry are two of the most important tools for businesses to stay competitive – technology has revolutionized how companies operate, while chemistry has enabled them to develop new products and services that can meet their customers' needs more effectively. However, these advancements come with their own set of challenges which must be overcome to make full use of them. This article will discuss seven ways technological and chemical advancements have pushed businesses forward so they can succeed in today's highly competitive market.
Automation
Automation is one of the most important advances in technology that has helped businesses streamline their operations and reduce costs. Automated systems can take care of mundane tasks quickly and efficiently, freeing up employees to focus on more important tasks that require greater levels of skill or creativity. For instance, automated systems can be used to automate data entry, customer service processes, and even complex tasks such as accounting and payroll. Automation has made processes much faster and more accurate than they were before, saving businesses both time and money. Additionally, automated systems are often able to detect and respond to problems more quickly than a human could, which can help businesses stay one step ahead of their competitors.
Industry and Process Innovation
The emergence of new technologies and materials has enabled businesses to innovate in both their processes and products. By using new chemicals, materials, or technologies, companies can develop new products or services that are more efficient and cost-effective than ever before. This innovation brings with it the potential to create competitive advantages over other businesses in the same industry; companies that can innovate and take advantage of new technologies will be better equipped to capture market share and gain an edge over their competitors.
Some of these include nanomaterials, 3D printing, and smart sensors. Nanomaterials are incredibly tiny particles that can be used in a variety of ways, such as to make products lighter or more durable. 3D printing allows companies to produce prototypes quickly and inexpensively, while smart sensors enable businesses to monitor their processes more accurately than ever before. On the other hand, chemicals also play an important role in business innovation. By studying and developing new chemicals, businesses can create products with improved properties or performance that other companies cannot match. Nowadays, chemical intermediates are used to create everything from advanced coatings to medical treatments. However, businesses must be careful to use only safe and sustainable chemicals that meet all relevant regulations.
Data Analysis
With the rise of big data, businesses have been able to make use of data analysis to better understand their customers and improve their operations. By analyzing the data they collect from their customers, businesses can gain insights into customer behavior, preferences, and needs. This insight can then be used to create more effective marketing campaigns or develop new products and services that are better tailored to their customers' needs. Data analysis can also help businesses identify areas of improvement in their processes or products, allowing them to make changes that increase efficiency and reduce waste. By making use of data analysis, businesses can quickly identify problems and come up with solutions before their competitors have the chance to do so.
Artificial Intelligence
The use of Artificial Intelligence (AI) has revolutionized many industries, and businesses are no exception. AI is used in a variety of ways to make processes more efficient, such as automated customer service systems or voice interfaces. AI can also be used to detect patterns in data that humans may not normally be able to identify, allowing businesses to gain insights they wouldn't have had before. When used correctly, AI can be used to identify opportunities that businesses may not have noticed before, such as new markets or products. For instance, AI can be used to identify trends in customer behavior that could lead to the development of new products or services.
Software as a Service
Software as a service (SaaS) is another technology that has become increasingly popular in recent years. Rather than purchasing software for their computers, businesses can now use SaaS to access the same programs online. This makes it easier and cheaper for businesses to access the software they need, as they no longer have to purchase or install the software themselves. Additionally, SaaS allows businesses to access the latest versions of their software, as updates are usually provided automatically. This means that businesses can always be sure they're using the most up-to-date version of the software, allowing them to take advantage of any new features or bug fixes as soon as they become available.
Cloud Computing 
Another development that has made a big difference to businesses is cloud computing. Rather than buying and maintaining their hardware, businesses can now use the cloud to store data and run applications, which makes it much easier for businesses to access the resources they need without having to worry about managing them themselves. It also allows businesses to scale up or down quickly, depending on their needs. This means that businesses can respond swiftly to changing market conditions and customer demands without needing to make large investments in hardware.
Energy Efficiency and Renewable Energy
As businesses become increasingly aware of their environmental impact, they are making use of energy efficiency and renewable energy solutions to reduce their carbon footprint. By investing in energy-efficient products and systems, businesses can save money in the long run as well as reduce their environmental impact. Additionally, many businesses are now turning to renewable sources of energy such as solar and wind power to reduce their reliance on fossil fuels. Batteries, epoxy, and other chemical products are also helping businesses move forward. Batteries are used to store energy from renewable sources such as solar and wind power, making them a vital component in the drive toward renewable energy. Epoxy is used to seal and protect surfaces in many industries such as automotive and construction, while other chemical products are used in the manufacturing process to create more efficient and durable goods.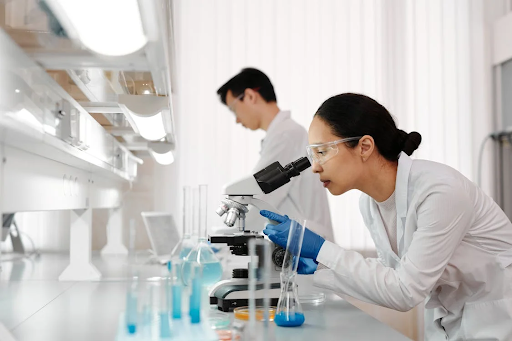 Therefore, by making use of technological and chemical advancements, businesses can stay ahead of the competition and remain competitive in an ever-changing market. By utilizing data analysis, artificial intelligence, software as a service, cloud computing, energy efficiency, and renewable energy solutions, businesses can make sure they are staying up-to-date with the latest trends and advancements in their respective fields.