Volkswagen Golf GTI is one of the most popular and sought after models on the market, which will continue for some time.
But like any other car in the GTI there is always room for improvement, or creativity to change for the better.
Volkswagen Group has also been offered a version of the Golf GTI that has been modified by the Abt Sportline, which is much more powerful and wilder than the current model.
While the current model has 290 horsepower, in the modified version it has 340 horsepower, making the speed from zero to 100 kilometers per hour, which so far reached in 5.6 seconds, with the new format could be done in two seconds faster.
Its top speed also increased, from 260 kilometers per hour, to 263 kilometers per hour. Although not looking an great grow, it has been fitted with the new suspension system, which has made this Golf much more agile on the go.
All of this, officials at Volkswgaen disliked, refusing to produce the Golf GTI, which is good enough.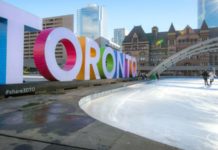 Our topmost list of five great things to do in winter in Toronto sounds one of the most adventurous things you can ever dream...