6 Health Tips to Follow During the Addiction Recovery Process
Achieving sobriety is difficult, but with the right advice and support, it can be successful. The following are six health tips to follow during the addiction recovery process for a healthier and happier life.
The Rehabilitation Center
When you're at the rehab center, the primary focus is your physical and emotional health. The best way to ensure that your recovery will be a success is to find a rehab center that offers everything you need, such as an exercise facility, a pool, and outdoor recreation activities. Push yourself to follow the guidelines set by your doctor or therapist because adhering to them will increase your chance for success. Participating in rehab exercises, such as deep breathing and muscle relaxation, will help you maintain physical health while strengthening your respiratory system. When you feel emotionally overwhelmed, try taking a walk or talking to other patients who are also working on their recovery. If you're the first time in rehab, you may be wondering what is needed to bring with you. According to https://irecover.ca/what-to-bring/, you should bring as little as possible, but certain items are a must – your documents, light clothes, comfortable shoes, and any medication you may currently be taking (including the packaging with instructions on how to use). Also, if you have any dietary restrictions, bring a list of your allergies or other health conditions just in case.
Get Plenty of Rest
Your body needs adequate rest to heal itself during the early days of recovery. Make your room feel like your home by bringing your favorite music, fresh flowers, or cozy bedding. If you're struggling with insomnia during the early days, try taking a short walk or doing some light stretching before bed. After the first few days, you may find that naps in the afternoon help you sleep better at night. For those first few nights you spend in rehab, do not be afraid to ask your doctor or nurse for a strong sleep aid. It's important to get as much sleep as you possibly can those first few nights so that your body has time to heal from the effects of long-term drug or alcohol abuse.
Yoga and Meditation Will Help
During your days in rehab, learn how to breathe deeply and clear your mind. Yoga and meditation will help you focus on your recovery, rather than the fear of getting clean. In addition to making you stronger physically, yoga can also give you a sense of calm that will endure even after rehab is over. Meditation will also help you focus on your recovery, rather than whatever worries you normally. Try to meditate at least once a day; if possible, schedule meditation sessions after yoga or before bedtime.
Work Out
The activities during rehab are designed with one goal – to heal your mind and body. During the first few days of detoxification, getting out of bed will be hard enough without having to worry about going to the gym. So, during those first few days, focus on getting as much rest as you can and using meditation to clear your mind. As you progress through rehab, start walking or doing simple stretches before yoga sessions. After a couple of weeks in treatment, start working out with light weights. The point is to get your muscles moving, not to build them up.
Do Not Skip Meals
No matter how sick you feel during the early days of recovery, you must eat three square meals each day at regular times. Skipping even one meal can make you feel weak and drained; if you're experiencing intense drug cravings, eating does help to strengthen you for the fight. Eating proper, healthy meals will also help keep your mind focused on recovery. If you normally eat a certain type of food, don't be afraid to ask for it during rehab. For example, if you enjoy a steak dinner every Sunday night, request one during your stay in rehab. To stick with healthier meal choices, try balancing carbs with lean proteins and lots of fresh vegetables. The more color you have on your plate, the healthier your meal is for you.
Inpatient Treatment
The best way to make sure you stay sober once you leave rehab is to never leave voluntarily. The vast majority of people relapse within the first few days or weeks after they leave treatment, which is why you must stay under your doctor's supervision. The vast majority of people relapse within the first few days or weeks after they leave treatment, which is why you must stay under your doctor's supervision. The best way to do this is to continue with regular outpatient therapy after rehab ends.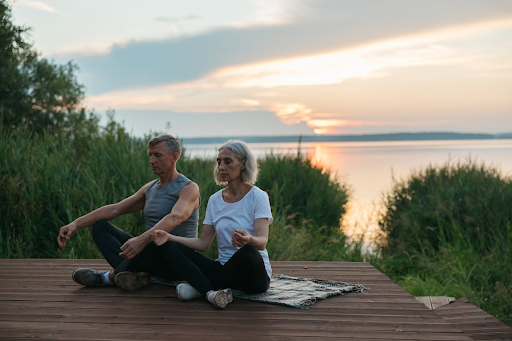 Rehab is not easy, nor should it be. With the right advice and support though, you can make sure this is the start of a happy and healthy life. It won't happen overnight; it will take time, but with these health tips to follow during addiction recovery, it will be a much easier process.