JustCo Coworking Space is the leading provider of flexible workspaces in Singapore, with around 22 locations under its management. For companies that do not require a formal office setting but still require privacy and effective workflow processes curated by professionals, JustCo offers affordable yet professional shared office spaces perfect for startups, entrepreneurs, or even growing SMEs below 100 employees.
JustCo aims to provide convenient modern workspaces that offer tailored infrastructure suitable for each client's business operations while creating a conducive environment for a community of entrepreneurs and corporate professionals to drive business growth.
Benefits of coworking space in Singapore
Reduced cost of operation.
Startups and SMEs will thrive with Justco's solutions to outsourcing office infrastructure, freeing up capital for their business operations. With Justco's flexible workspace options, businesses can tailor their workspace requirements according to business cycles, thus reducing long-term leasing commitments.
Seamless networking opportunities between entrepreneurs and professionals.
Coworking communities are inherently rich with networking opportunities both formally and informally during breaks or after working hours, leading to valuable partnerships that could eventually lead to lucrative investment deals. The relationships cultivated in coworking spaces foster productive exchanges even outside the physical confines of JustCo Coworking Spaces, promoting an entrepreneurial ecosystem within the city-state, which is now recognized as a key economic driver by local policymakers.
Shorten business cycles and increase productivity
JustCo provides high-quality yet affordable Singapore coworking space for startups which is considered the best option compared to buying an office space at exorbitant rates on rent. The flexibility of the coworking space allows companies to experiment and take risks within a supportive environment with like-minded individuals, reducing the barrier to trying new concepts or releasing new products into the market. This ensures that only promising concepts are invested further while failed ideas are quickly discarded.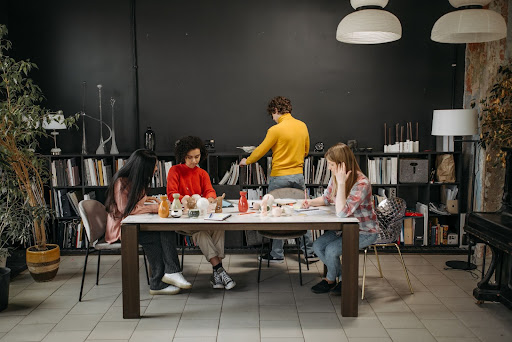 Allows businesses to operate seamlessly despite fluctuations in human resources, especially during initial growth stages when there might not be enough manpower on board.

Promotes "out of the box" thinking among employees due to constant exposure to new ideas from peers working in different industries.

Reduced carbon footprint and environmental impact by using communal resources such as printers and advertisement boards.

A conducive work environment that encourages productivity and healthy living by providing flexible spaces for workers to break away from their chairs, not to mention an abundance of natural lighting in most Justco Coworking Spaces available 24 hours a day throughout the week, which is perfect for night owls who enjoy long working hours.

Meeting rooms are provided at all Justco Singapore's coworking space free of charge, allowing companies to engage external clients or facilitate team meetings without having to deal with administrative issues related to booking meeting rooms.
In conclusion, companies benefit from operating in shared office spaces instead of leasing a private office space. JustCo is committed to providing convenient and affordable workspaces that address the needs of small businesses while promoting an entrepreneurial ecosystem within Singapore through its cutting-edge coworking spaces explicitly tailored to meet the demands of modern business operations.