They offer support for current Ryzen 3000 desktop chips, including XT variants
AMD announced the launch of its new chips including the A520 chip, offering a solution to all those who while building their PCs, also worry about the economic side. The A520 motherboards stand in the AM4 socked and the models will be available from regular manufacturers anywhere in the globe.
[td_block_ad_box spot_id="custom_ad_2″]
These boards support the current Ryzen 3000 desktop chips, including the XT variants, the recently launched Ryzen 4000-series (Renoir) APUs and will be compatible also with the 4th generation Ryzen (Zen 3) which will be released a little later in 2020, so there is the possibility of upgrading even later.
| | A320 | A520 | B550 | X570 |
| --- | --- | --- | --- | --- |
| CPU Graphics Support | x16 PCIe 3.0 | x16 PCIe 3.0 | x16 PCIe 4.0 | x16 PCIe 4.0 |
| CPU Storage Support | PCIe 3.0 | PCIe 3.0 | PCIe 4.0 | PCIe 4.0 |
| CPU USB Ports | 1 x USB 3.2 Gen 2 | 1 x USB 3.2 Gen 2 | 2 x USB 3.2 Gen 2 | 8 x USB 3.2 Gen 2 |
| Dual Graphics Support | No | No | Yes | Yes |
| General Purpose Lanes | PCIe 2.0 | PCIe 3.0 | PCIe 3.0 | PCIe 4.0 |
| CPU Chipset Uplink | PCIe 3.0 | PCIe 3.0 | PCIe 3.0 | PCIe 4.0 |
| Overclocking Support | No | No | Yes | Yes |
The A520 motherboards should be available from manufacturers like MSI, ASRock and Asus priced from $100. Quite a friendly move for anyone who is going to build their own setup but is budget limited. While the AMD A520 chips give to entry-level Ryzen PC builders a list of new features compared to older A320 and B450 motherboards, some compromises have to be made.
The biggest compromise may be the lack of PCIe 4.0 compatibility. PCIe 4.0 gives a greater bandwidth when paired to compatible CPUs like Ryzen 3000 series. This means that your A520 chip won't be able to give the maximum bandwidth of your CPU as a result you will be limited to PCIe 3.0 speeds. This may not be a big deal unless you use a PCIe 4.0 SSD to make use of higher speeds. On the other side, PCIe 4.0 does not matter on the graphics card since a PCIe 3.0 x16 is mother than enough. Should also mention that the new A520 chipset doesn't support CPU overclocking and this is not a huge deal cos Ryzen 3000-series (codename Matisse) CPUs don't have much manual overclocking headroom.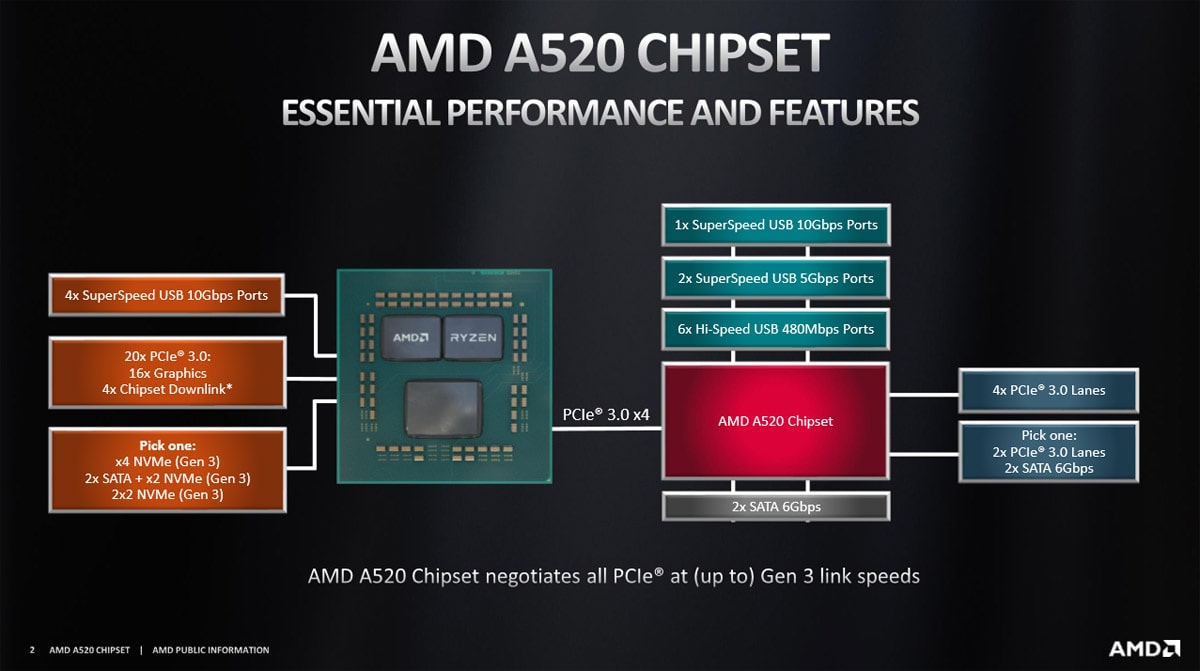 Aside for the entry-level (sub $100 US) prices, AMD A520 motherboards have o loot to offer like increased  I/O, support for next-gen Ryzen CPUs & APUs (besides the current ones) so there is path for upgradability, and better quality components, something not seen on older A320 chips. The new chips lands with 26 usable PCIe 3.0 lanes, supports up to four SATA III ports and as for the connectivity can accommodate up to five USB 3.2 Gen 2 ports, two native USB 3.1 ports, and six native USB 2.0 ports.
Already a handful of motherboards already to go with the new chipset. These include:
ASRock A520M Pro4
Asus TUF Gaming A520M-Plus
Biostar A520MH
Gigabyte A520 Aorus Elite
MSI MAG A520M Vector Wi-Fi
[td_block_ad_box spot_id="custom_ad_3″ tdc_css=""][td_block_11 category_id="3″ limit="1″ td_filter_default_txt="" tdc_css=""]