Kylie knows no limits for Halloween. At every holiday, the 22-year-old billionaire appears with a new look.
Last night, the reality show star was dressed as Playboy's "Bunny".
Jenner posted a short video on Instastory that looked too sexy with the black body.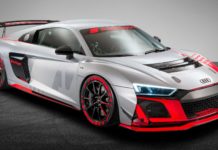 A year after the introduction of the redesigned R8 by Audi's competition department, the redesigned and updated R8 LMS GT4 arrives, sharing about 60...