Samsung Electronics introduced a new patent at the end of 2018 for an "Expanded Galaxy Phone" at KIPO (Korean Intelligence Property Office), and after many months, it was finally released on June 24, 2019.
In this patent application, there are fourteen sketches where a Galaxy-like phone can be seen, but unlike its predecessors, this screen can extend the width of the phone, after which the display surface increases by about 50%.
In the front there is a camera system with a round design that is positioned right in the middle and will not obstruct the expanded screen because it can be moved to the right. On the back you will find a camera system in the top right corner.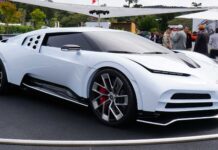 Bugatti Centodieci is the most powerful French-made SuperCar, surpassing the Chiron with 1,600 horsepower. But it's not just the power of the $8.9 million price...