Tips for Starting an Eco-Friendly Lifestyle
Eco-friendly living is about much more than just recycling – it's about reducing your carbon footprint, maintaining a healthy lifestyle, and taking care of the environment. It can seem overwhelming when you first start considering how to make eco-friendly choices in every aspect of your life, but being eco-friendly doesn't have to be difficult or extreme. There are plenty of ways for you and your family to live an eco-friendly lifestyle without making any major changes! Let's explore some tips for starting out on this new adventure.
1) Buy Plastic-Free Products
Avoiding plastic products is an easy way for you and your family to make a big difference without any major changes – all you have to do is say no. Many, many household products such as dryer sheets, sandwich bags, straws, cleaners, and even some foods come in wasteful plastic packaging that can easily be replaced with eco-friendly alternatives. About 4.2 billion single-use bottles are wasted per year in North America. Fortunately, there are a lot of substitutes for plastic products and you can click here to find out more about plastic-free disinfecting multi-surface cleaner. Plastic-free solutions are not only better for the environment, but they're also safer and healthier – plastic releases carcinogens when it degrades. 
2) Hang Your Clothes to Dry
Hanging your clothes out to dry is an easy way to save energy and cut back on costs. Not only will you be using less electricity by air-drying your clothes, but you'll also be cutting back on the amount of greenhouse gases that are emitted by the electricity generation process. Clothes dryers are one of the biggest energy hogs in most homes. It takes more than 3 times as much energy to run a dryer than it does to air-dry your laundry! Not only that, but air-drying your clothes is gentler on them, which helps prevent fabric wear and tear. 
3) Buy Locally Sourced Food
Buying locally sourced food is an easy way for you and your family to make a big difference without any major changes – all you have to do is purchase differently.  Buying locally sourced food eliminates the negative environmental impacts of transporting goods across long distances, leading to less greenhouse gas emissions. It also supports your local economy –   when you buy food that is grown locally, the profits go directly to the people in your community. On top of all this, local sources are generally fresher and taste better too! 
4) Reuse And Repurpose
One of the easiest and most fun ways you can live a greener lifestyle is just by using items that have already been created! There are plenty of things around your home that can be reused as something else. You can make art out of old CDs or DVDs, use old toothbrushes as cleaning brushes for small spaces, cut up kitchen scrubbies to use as dusters for ceilings and walls, re-purpose your old T-shirts into reusable bags or other useful items, or even repurpose gift card boxes into cute little storage boxes.
5) Use Energy Efficient Appliances
Did you know that when household appliances break, they're often disposed of – even though there are repair options available?  Repairing your appliances rather than replacing them is the best way to go when looking for environmentally friendly options.  When you need to buy new appliances, turn to energy-efficient models that are labeled with an Energy Star – these use around 70% less energy than standard units. Energy-efficient appliances should have A+++ energy ratings or at least A. These appliances might be more expensive at first but will save you up to 35% on running costs in the long term. You can buy an energy-efficient refrigerator,  dishwashers, washing machines, and other appliances without sacrificing performance.
6) Turn Off Your Electronics
Electronics are a huge part of our lives, but they use up a lot of electricity when we forget to turn them off.  It's estimated that more than 40% of the energy household appliances use is from electronics that have been left on overnight or while nobody is home. You can fix this by just turning off your appliances when you're not using them. If you don't use your TV for an extended period of time, turn it off – if you won't be using something for a long time, unplug it! You should also turn off your charging electronics when they aren't in use. 
7) Use Energy Efficient Light Bulbs
Switching your regular light bulbs for energy-efficient models is an easy and affordable way to reduce your carbon footprint and save money. These bulbs last up to 10 times longer than standard incandescent light bulbs. Not only that, but they also use 70% less power. You can buy LED lights, compact fluorescent lamps (CFLs), and halogen bulbs.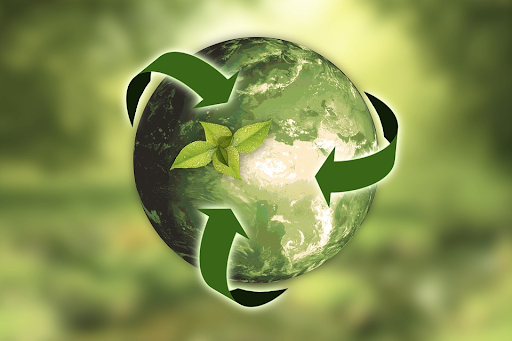 8) Recycle
And finally, recycle! Make recycling a regular part of your family's routine so that you dispose of items in an environmentally friendly way. If you don't have curbside recycling, look for places in your neighborhood that offer recycling services. A lot of everyday items can be recycled such as cell phones, tin foil, plastic containers, glass jars and bottles, newspapers, plastics marked with one of the numbers 1-7 on the bottom, etc. Recycling is a simple way to become eco-friendly and it makes a huge difference!
Living an eco-friendly lifestyle can be a difficult thing for some people to get into. However, this lifestyle is a great way to live healthier and happier, as well as lessen your impact on the environment. In this blog post, we explored some of the many ways you can make sustainable living work for yourself without having to change any major aspects of your life. Some of the ideas include recycling, re-purposing items, and buying energy-efficient appliances. Remember to turn off your electronics when they aren't in use, and try switching to renewable energy sources whenever possible! We hope that you found this post informative and helpful, and encourage you to start living a more sustainable life! Remember: it's never too late to start!