6 Things That Must Be On Your Desktop Screen
It's important to find a balance between practicality and creativity when it comes to your desktop screen. In this blog post, we share six things that you should have on your desktop screen so that you can work efficiently and creatively.
Calendar
Having a calendar on your desktop screen can help with productivity. It's easy to see what day it is and what events are coming up. This can help keep you organized and avoid scheduling conflicts. By having a current date on your screen, you can tell what day of the week it is and if any events are coming up. This will help avoid scheduling conflicts and keep you organized throughout each month. If a busy schedule is having more than one meeting or event on a single day, be sure to put it in the calendar so that nothing gets overlooked.
Additionally adding daily tasks like sending emails, doing laundry, or paying bills can help you stay on track.
Work Documents
The first thing you need to do is work on your actual, active projects. If you are working with a team or client that has an existing workflow process already in place then follow it. If you are working on something new, create a folder for the project and start dumping everything related to it in there. Keep all of your work-related documents open on your desktop screen so that you can reference them as needed. This includes things like meeting notes, design files, research articles, or anything else related to the project.
Having your work documents open and visible will help keep you organized and productive. It also allows you to quickly reference any information that you may need while working on the project. This can save you time and avoid potential headaches down the road. So, make sure that all of your active projects have their designated folder and that all of your work documents are open and visible on your desktop screen.
Inspirational Quote
Having an inspiring quote on your desktop screen can help with productivity. Seeing the words of someone who has achieved great things can give you the motivation to work harder and achieve your own goals. A beautiful picture or design can also provide a calming effect, which can be helpful when you are feeling overwhelmed or stressed.
If you don't have a favorite quote or picture, there are plenty of websites that offer free downloads. Just do a quick search online and find one that speaks to you. Changing your desktop background every once in a while can also help keep things fresh and exciting. So go ahead and add some personality to your computer screen.
Social Media Platforms
Many social media platforms can be useful for productivity. For example, Facebook can be used to stay connected with friends and family, LinkedIn can be used to connect with business professionals, and Twitter can be used to follow news and events. All of these platforms have different purposes, so it is important to find the ones that work best for you. If they are not working for your productivity, consider removing them from your desktop screen to avoid distractions. If you're working in the marketing industry, you should be on LinkedIn. If you are a writer, Twitter can help with finding new stories and ideas.
Picture of Loved Ones
Having a picture of your loved ones on your desktop screen can help with productivity. It allows you to take a break from work and look at something that brings happiness into your life. Studies have also shown that having pictures of loved ones around can increase productivity in the office setting.
If you are having trouble focusing on your work, try changing the desktop background to a different picture. This can help stimulate your mind and get you back into working mode.
Clock
The first thing you should notice on your screen is a clock. Not only will it be able to help with productivity but also time management and knowing when you need to get up from your desk for breaks or lunch. Some people prefer having their pictures as the background, others like using images that they find interesting such as photos of nature scenes or quotes. Whichever you choose, make sure the clock is easily visible. You don't want to be constantly looking away from your work to see what time it is. Many different clocks can be downloaded as desktop wallpapers or screensavers and most of them are free. Pick one that suits your needs and personality.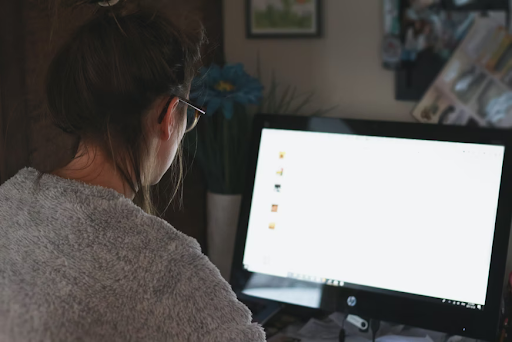 You could add or remove anything from this list to make sure you have all the tools and materials you need for the daily tasks at hand before beginning work on them. These 6 tips will help keep you organized and focused on your work.