What is an Off-Road Camper Trailer?
An off-road camper trailer is a vehicle that combines the comfort of living indoors with the ability to travel wherever you want. It has everything you'd expect from a home, including beds, kitchens, bathrooms, and storage space. It's essentially a small house on wheels. 
The difference between an off-road camper trailer and an RV is that off-road campers are built for off-roading; they have rugged tires and heavy-duty suspensions to handle rough terrain easily. If you're a serious off-roader, you know how important it is to have the right tools. One of these tools is an off-road camper trailer. There are many reasons why you need an off-road camper trailer. Whether you're looking for a new way to explore the outdoors or just want to get away from it, an off-road camper trailer is a perfect solution.
The most basic reason to choose a camper trailer over a tent or RV is due to convenience and because they are;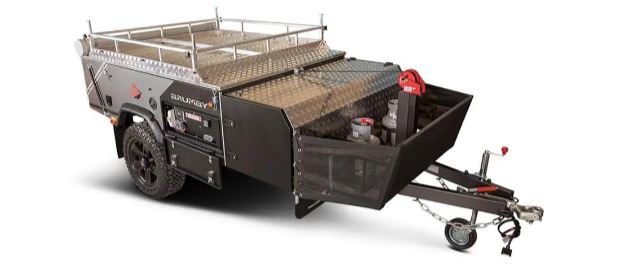 Easy to Tow
Most models are designed with off-roading in mind, so they're lightweight, aerodynamic, and easy to maneuver. If you want to go camping in the mountains or deep into the woods, an off-road camper trailer will make your trip much more enjoyable. The terrain can be rough and uneven, so having a vehicle that can handle it is essential for safety reasons.
Easy to Set up
Setting up your tent can be a hassle if you're unfamiliar with the terrain or have never set up your tent before. With an off-road camper trailer, you hook up the hitch and go! The hardest part is finding a level spot where there isn't too much wind or rain.
They have More Storage Space
If you want to bring all of your gear from home on your next camping trip. A camper trailer provides more space than any other type of vehicle because there are no seats inside the trailer itself, meaning no obstructions for bags or items that need storing away from sight. This makes it easy to find things when they need them without rummaging through stuff all day long! It's essential to choose the right camper trailer for your needs, and not just any camper will do. There are many different campers on the market: pop-up, hard shell, and softshell.
Pop Up Campers
Pop-up campers are lightweight and easy to set up and take down, making them ideal for those who like to go camping in remote locations where there may be no power or water hookups. They are also great for those who need a quick place to sleep after a long day of exploring nature. However, if you like to stay out at night, pop-up campers can be a little cramped because they don't have much room inside for storage or sleeping space.
Hard Shell Campers
Hardshell campers are heavier than pop-up campers, but they provide more space inside, making them more comfortable when it comes time to relax at night or when traveling farther from home with family or friends. They also have larger windows to enjoy the view and breeze indoors.
Soft Shell Campers
They are easy to build and more economical than hard shell campers; they are spacious and foldable.