The models are changing but Apple remains at the top
It seems that Apple has long secured the title of "most popular smartphone in the world." The title has so far belonged to the iPhone XR that was released in 2018 and the position will now be occupied by the iPhone 11.
[td_block_ad_box spot_id="custom_ad_2″]
According to Omdia, Apple sold 19.5 million iPhone 11s in the first quarter of 2020 despite the pandemic, surpassing 13.6 million iPhone XRs in the first quarter of 2019. The numbers also show the big difference between the iPhone 11 and the competitor, with the second Samsung Galaxy A51 selling only 6.8 million units.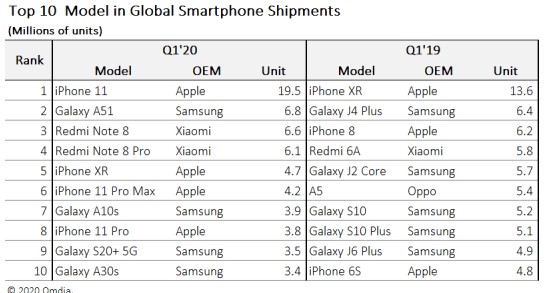 "Despite the devastating effects of coronavirus on consumer demand, Apple's iPhone 11 in the first quarter of 2020 surpassed the iPhone XR of the first quarter of 2019 by 6 million units. This represents a huge improvement in the company's performance since the first quarter of last year when the iPhone XS and XS Max weren't even in the top 10. The iPhone XR was the only new model to appear in the top 10 at the time. This year, however, all three new models made their appearance in the top 10."
The iPhone 11 Pro and 11 Pro Max appear in 8th and 6th place, respectively, while the top ten are completed with Samsung and Xiaomi phones.
[td_block_11 category_id="3″ limit="1″ td_filter_default_txt="" tdc_css=""][td_block_ad_box spot_id="custom_ad_3″ tdc_css=""]