After lots of rumors and many leaks, Google officially announced its new flagship smartphones,Google Pixel 3 and Google Pixel 3 XL that are now entering the world of artificial intelligence, come to help the user even more.However, as Google Pixel 2 smartphones are still best in photography,than just think what we will expect from the new models.
[td_block_ad_box spot_id="custom_ad_2″ tdc_css=""]
Pixel 3 & Pixel 3 XL Officially Unveiled By Google
So, let's gets the hands of the new smartphones
The Pixel 3 features a 5.5-inch P-OLED screen (1080 x 2160 resolution) and the Pixel 3 XL a 6.3-inch (1440 x 2960) P-OLED screen, while both the smartphones have 18:9 aspect ratio.
The all-new Pixel 3 is almost a copy of the Pixel 2 XL, with thin frames at the top and bottom of the screen. The Pixel 3 XL further eliminates the frames compared to its predecessor but the all-new Pixel 3 XL have the well-known notch and a speaker below the screen.
At the level of photography where the tech giant Google wants to continue to make a difference and the comparison with the competition is inevitable. Some examples of photos have been shown and this, with the iPhone Xs, demonstrates well the power of new Pixel devices.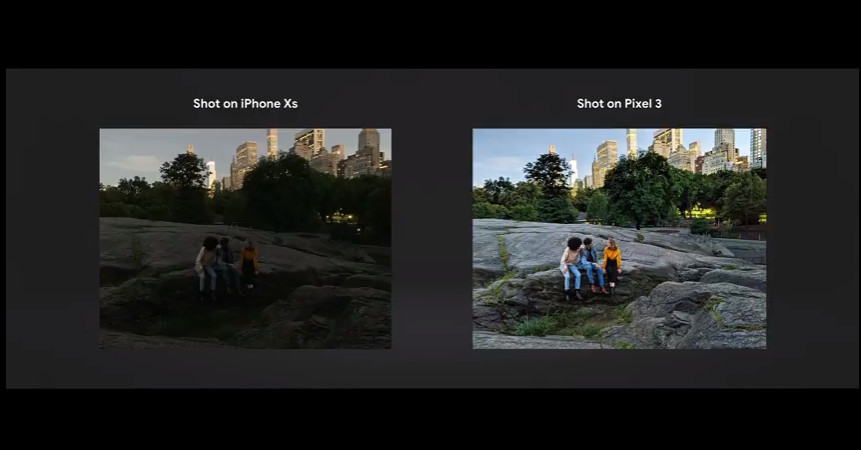 Interestingly, Google did not bet on the rear double cameras. The new models bring only a 12.2 MP sensor, the results of which are guaranteed to be incredible. At the front is that the brand opted for the double camera, with a wide angle to capture more people and with a sensor directed to the selfies with blurred effect.
Artificial intelligence is the key factor of these cameras with a novelty at the level of capture and choice of the perfect shot: the Top Shot. This, in fact, is something that we have already seen several tools to do.
The Pixel 3 and Pixel 3 XL come equipped with the Qualcomm Snapdragon 845 processor and bring 4 GB of RAM (Pixel 3 only). In terms of internal storage, then let me clarify that the all-new Pixel 3 and Pixel 3 XL is available in 64 and 128 GB options.
Moreover, both the devices have front speakers for stereo sound reproduction, perhaps the best the market will offer in the near future, they have Bluetooth 5.0 and of course, they bring the new Titan M security chip.
The all-new flagship smartphones Google, Pixel 3 and Pixel 3 XL will be available from October 18 for a number of countries, including France, Italy, Germany, and UK.
Google Pixel 3 specs:-
Screen: 5.5-inch Full HD + (1080 x 2160) P-OLED (Aspect Ratio: 18:9)
Pixel Density: 443(PPI)
Operating system: Android 9.0 (Pie)
Processor: Qualcomm Snapdragon 845 Octa-core (4 × 2.5 GHz Kryo 385 Gold & 4 × 1.6 GHz Kryo 385 Silver)
GPU: Adreno 630
RAM: 4GB
Storage: 64/128 GB
Back Camera: 12.2 MP
Front Camera: 8 MP + 8MP (Dual)
Dimensions: 145.6 x 68.2 x 7.9mm
Battery: 2915 mAh with Fast battery charging technology + QI wireless charging
Google Pixel 3 XL specs:-
Screen: 6.3-inch Full HD + (1440 x 2960) P-OLED (Aspect Ratio: 18:9)
Pixel Density: 523(PPI)
Operating system: Android 9.0 (Pie)
Processor: Qualcomm Snapdragon 845 Octa-core (4 × 2.5 GHz Kryo 385 Gold & 4 × 1.6 GHz Kryo 385 Silver)
GPU: Adreno 630
RAM: 6GB
Storage: 64/128 GB
Back Camera: 12.2 MP
Front Camera: 8 MP + 8MP (Dual)
Dimensions: 158 x 76.7 x 7.9mm
Battery: 3430 mAh with Fast battery charging technology + QI wireless charging
[td_block_ad_box spot_id="custom_ad_3″]