22 cores to counter Ryzen Threadripper?
Rumors suggest Intel plans to launch a 22-core Cascade Lake processor, named the i9-10990XE, which adds four more cores to the company's more powerful Cascade Lake-X model to compete with the Ryzen Series, AMD's Threadripper 3000, reports Overclock3D.
[td_block_ad_box spot_id="custom_ad_2″]
Pictures of this processor appeared in the benchmarking of the CPU-Z application, and were subsequently published by the Chiphell site. Subsequently, Computerbase further confirmed that the motherboard makers had mentioned the 22-core processors during the CES 2020.
Intel i9-10990XE processor will have a working CPU boost boost that can reach up to 5GHz. At the moment, the TDP of the processor is listed as 380W but this has not been confirmed.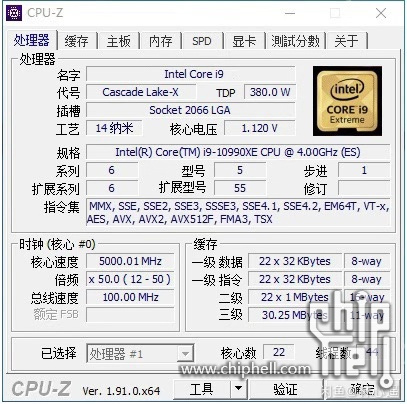 Although Intel has not officially confirmed plans to launch the processor with a larger number of cores on its X299 platform, it is clear that motherboards makers want to see more cores in Intel processors by 2020.
It should be noted that the results of Cinebench have also been published, but they are extremely easy to manipulate and falsify, so the information published about the Intel i9-10990XE processor should be taken with reserve.
[td_block_11 category_id="3″ limit="1″ td_filter_default_txt="" tdc_css=""][td_block_ad_box spot_id="custom_ad_3″ tdc_css=""]